Michael Phelps battling both emotions and rival Ryan Lochte
By Nick Hope
BBC Olympic sports reporter
Last updated on .From the section Olympics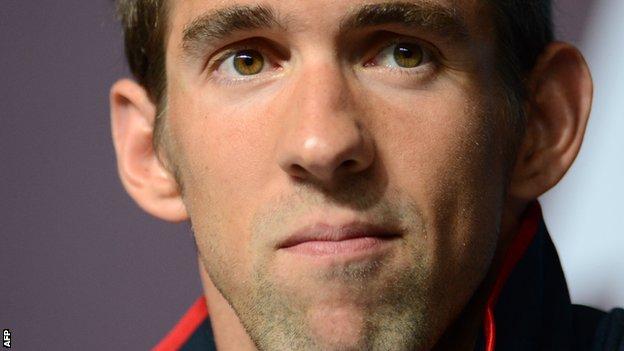 Michael Phelps admits his greatest battle at London 2012 could be with his mind rather than rival Ryan Lochte.
Phelps is competing in his last major championship before retirement, looking to add to the 14 Olympic gold medals he has already won.
"I'm more emotional because these will be the last competitive moments of my career," the 27-year-old, who won a record eight golds in Beijing, said.
"Once I get into the pool I won't be holding back."
Phelps is entered in seven events and will take on countryman Lochte in the 200m and 400m individual medley.
Lochte beat Phelps in the 400m individual medley at the US trials in June and will attempt to repeat the feat on the opening day of competition in the Aquatics Centre.
But Phelps is in confident mood after making "subtle" changes to his technique and insisted he will not be focusing too heavily on the challenge posed by Lochte.
"The only person I can control is myself," he said.
"If a record happens, great, but I don't think everything from my career has really sunk in and I think it will do after retirement."
Phelps, who also has two Olympic bronze medals to his name, can become the most successful Olympian by claiming three medals of any colour at the 2012 Games.
Gymnast Larisa Latynina won 18 medals - nine gold, five silver and four bronze - for the former Soviet Union between 1956 and 1964.
Phelps will swim the two butterfly and two individual medley events as well as three relays in London.