London 2012: Windsurfer Dempsey coping with pressures

Last updated on .From the section Olympics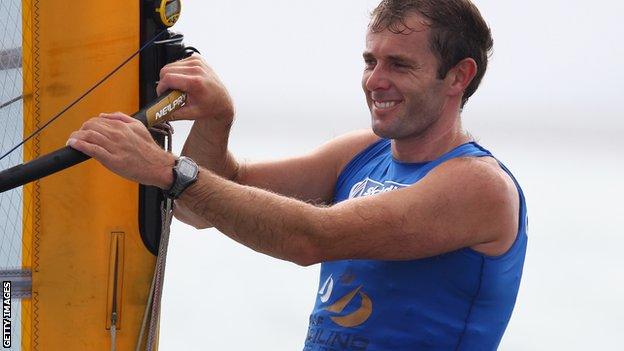 British windsurfer Nick Dempsey says he is coping with the pressure of trying to win a first Olympic gold medal in his fourth and final Games.
But the 31-year-old says he is managing to keep the lid on his expectations.
"The pressure is always there whether it is your first Games or your last," he said.
"It's easy to put yourself under a bit more pressure if you let yourself. Pressure is what you make it. Hopefully I won't feel it too much, but it's my last Games, it's important, and a home Games as well and the pinnacle of my career. Hopefully, it will be alright."
Dempsey went into the final medal race in China in silver-medal position and as one of four sailors who could have won gold, but ended up missing out. Ayton won Yngling gold with Sarah Webb and Pippa Wilson as Great Britain clinched four golds and six medals in all.
He hit back to win the world championship in Weymouth in 2009 and says he is a different sailor to four years ago.
"I'm 6kg heavier. I've developed the power a lot," he said. "I hadn't lifted a weight in my whole life before China. Now I do four weights sessions a week, my body has changed quite a lot. The way I sail has maybe matured a little bit and is slightly more conservative. Hopefully, just a little bit wiser."
Earlier this year, Dempsey moved out of the home he shares with Ayton and their two small sons in Weymouth to focus solely on his training and says he is happy with his preparations.
"I'm as confident as you can be coming into an Olympic Games," he said. "If you win every event in the run-up you still know a lot can go wrong. I know if all goes well I'm good enough to win, so I'm confident but cautious with that and in a good place."
With the planned omission of windsurfing in favour of kiteboard racing for Rio 2016, he dismissed rumours he would pair up with Ayton in the new mixed class.
"That would end in tears," he said.