London 2012: Rebecca Adlington tells Team GB to seize the moment
Last updated on .From the section Olympics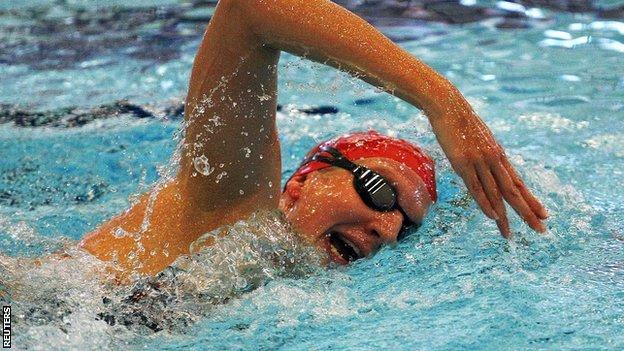 Rebecca Adlington says her Great Britain team-mates should seize their "one shot" to compete at a home Olympics as London prepares to stage the Games for a third time.
"It is going be so different and something that you can't fully prepare for. It's exciting and new and just one of those things that you have to take in your stride," said the 23-year-old.
"I know it sounds like a song, but this is our one shot to compete at a home Olympics. I just think it's going to be amazing."
More than 10,000 athletes from 204 nations will compete for a total of 302 gold medals in London, which also hosted the Games in 1908 and 1948. More women are taking part than ever before.
Adlington added that the home crowd could have a key role to play as Britain seek to better their fourth-place finish at the 2008 Games. They won 19 golds in China and 47 medals in total.
"It's going to lift us all and pick us up if we're feeling low," she said. "I'm sure it's just going to be 100% positive for the whole week."
Britain have been set a target of at least 48 medals by UK Sport, the body that helps fund Britain's Olympians.
Some of GB's main hopes rest on the likes of Adlington, sailor Ben Ainslie, athletes Jessica Ennis,Dai Greene and Mo Farah, cyclists Sir Chris Hoy, Mark Cavendish and Victoria Pendleton, gymnasts Beth Tweddle and Louis Smith, and rowers Kath Grainger,Anna Watkins,Zac Purchase and Mark Hunter.
"I think GB can be really successful," Ennis said. "Having a home crowd is just going to bring out some extra performances in all of us."
The heptathlete, who missed the 2008 Games because of injury, hopes the British team can feed off each other's success.
"When you see someone performing well in the team it gives you that extra edge and feeling that you want to perform just as well and keep that ball rolling," she added.
Cavendish could give Britain their first gold medal of the Games when he competes in the men's road race on Saturday. He is already the world's best sprinter but has yet to win an Olympic title.
"An Olympic medal, regardless if it's the first or last on offer, is an Olympic medal for your team," he said. "It's easy to get emotional about it. I've been nervous this week."
Friday's opening ceremony marks the official start of the XXX Olympiad, but the action has already begun.
Great Britain's football teams kicked off their campaigns earlier in the week, with the women beating New Zealand 1-0 in Cardiff and the men drawing 1-1 with Senegal in Manchester.
And two world records were set in the archery events on Friday morning, with South Korea setting new landmarks at Lord's.
Record breakers Usain Bolt and Michael Phelps will be aiming for more Olympic success after starring in Beijing.
Bolt is defending the 100m and 200m titles he won in such style in China, although the Jamaican admits he is only "95% fit", while Phelps, who won eight golds in 2008, is looking to add another seven to his tally.
Phelps is already the most successful Olympian ever with 14 golds, having won six in Athens.
"Everything feels good," said the 27-year-old American, who will retire from major competition after the Games.
"This is something I have been looking forward to for a while. I am going to get in the water and race as hard as I can."
Other big names from the world of sport will be joining Bolt and Phelps on the world's biggest sporting stage.
Roger Federer and Novak Djokovic compete in the tennis events at Wimbledon, LeBron James, Kobe Bryant and Kevin Durant are part of star-studded American basketball team, while Neymar, Hulk and Pato will attempt to give Brazil their first ever gold in men's football.
Federer, who won a gold in the men's doubles in 2008, will start the singles competition as favourite following his record-breaking seventh title at the All England Club just a few weeks ago.
"Having the chance to play in the Olympics at Wimbledon is incredible," said the Swiss. "The pressure is obviously big because it is a different type of event. It only happens every four years, so that is not something we are used to."
Whether world records fall may be down to the unpredictable British weather, but Oscar Pistorius will make history whether it rains or shine.
The South African will become the first double amputee to compete in the Olympics after being selected to run in the men's 400m.
His exploits - and those of Bolt, Phelps, Ennis, etc - will be followed closely by the world's media, with around 21,000 journalists and broadcasters accredited for the Games.
In Britain, the BBC's extensive coverage ensures that every gold medal, every sport and every member of Team GB will be covered every day.
"There is a huge sense of excitement because Britain is ready to welcome the greatest show on earth," said Prime Minister David Cameron. "It's going to be an incredible few weeks for our country."