Dai Greene 'desperate' for Olympic 400m hurdles gold
Last updated on .From the section Olympics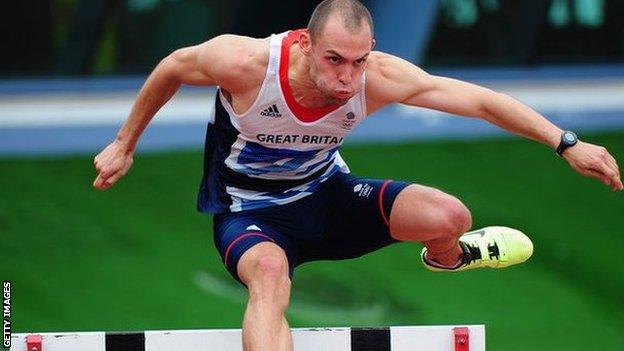 Dai Greene says he is "desperate" to win an Olympic gold medal in the 400m hurdles at London 2012.
The Welshman has already won World Championships, European Championships and Commonwealth Games gold medals and is determined to add an Olympic title.
"I have been training all year to get the gold medal, I don't imagine myself winning bronze or silver," said Greene.
"I am certainly in touching distance. I have set a personal best already this year and I am desperate to get that gold medal. Hopefully, I can bring it home for the country."
Greene, who hails from Llanelli, has struggled with a virus and had knee surgery in December but is still the second fastest 400m hurdler in the world this year.
He set a personal best of 47.84 seconds at Paris in July, just outside Kriss Akabusi's British record of 47.82 seconds. Kevin Young's Olympic record, set in Barcelona in 1992, stands at 46.78 seconds.
Greene, 26, ran his third fastest time at Crystal Palace recently and has shown signs that he is returning to form at the right time.
This will be Greene's first Olympics and he says he is aware London 2012 will be the biggest event he will compete in.
"The Olympics is the biggest competition you can do," said Greene.
"To have a home Olympics is the biggest thing you can have in your entire career. I know it will be the biggest competition I will have ever competed in.
"I just see it as a massive opportunity and one I hope to seize and make the most of."
And Greene is confident that he will be lead a track and field team that will be a success at London 2012.
"I think we have a chance to be one of the most successful athletics teams in a long time. We seem to have got better and better every year," said Greene.
"We are bringing home plenty of medals and if you look at the rankings going into the Olympics, we have a lot of guys and girls who are very high up and have a lot of experience in the squad.
"I certainly think we will achieve something great."