Olympics beach volleyball: Bearskins, bikinis and Benny Hill

By Sam Sheringham
BBC Sport at Horse Guards Parade
Last updated on .From the section Olympics
It would have been enough to make Winston Churchill choke on one of his famous cigars.
Just a stone's throw from where he orchestrated victory in the Second World War, babes in bikinis and blokes in bermudas were dancing a conga across a sandy court to whoops and cheers from 15,000 spectators.
The crowd-pleasing razzmatazz was filling a time-out in an Olympic beach volleyball game at Horse Guards Parade - one of the most surreal and stunning venues of London 2012.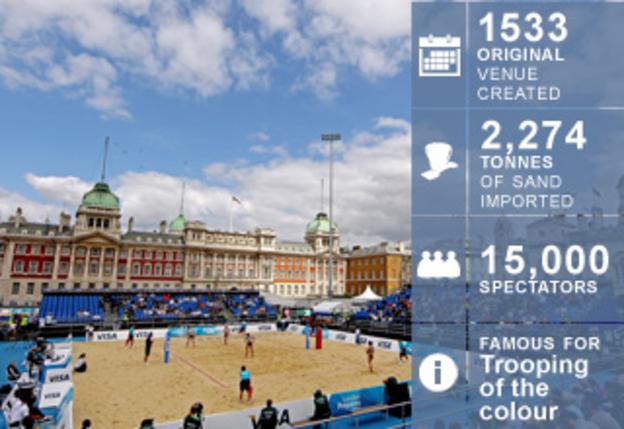 Flanked by St James' Park and Whitehall, the arena is a well-hit smash from Prime Minister David Cameron's back garden and moments away from Buckingham Palace.
Seats in the upper tier offer a backdrop of the London Eye, the Houses of Parliament and the Horse Guards Parade building, built in 1745 to house the King's personal guards and the scene of the annual Trooping of the Colour parade to celebrate the Queen's official birthday.
The guards were in formation again on Sunday morning as they warmed up the crowd for the second day of group matches by marching up and down the court in their bearskins and red tunics, playing hits from yesteryear such as Spandau Ballet's 'Gold' and Queen's 'Don't Stop Me Now' on brass instruments.
The pre-match frolics continued as the bikini-clad "Horse Guards Dance Troupe" made their entrance with a raunchy routine to 'You Spin me Round' by Dead or Alive before the Benny Hill theme tune was blasted over the speakers while officials raked the court. If beach volleyball was trying to shake off its saucy image, it was going about it in a funny way!
The crowd lapped it up and were soon rising to their feet to welcome women's pairs from Italy and Russia, who sauntered on to the sand through a guard of honour formed by the dancing girls themselves.
The joyous juxtaposition of old and new continued as nine chimes from the nearby Big Ben signalled the start of the match.
What unfolded was a riveting exhibition of a sport which mixes power, touch and teamwork. Players hurled themselves around as they did everything in their power to keep the ball above sand, before hugging, high fiving or patting each other's behinds after successful points.
Meanwhile, the excitable stadium announcer implored the crowd to clap, wave and "cheer for the Prime Minister next door", and a giant screen helpfully flagged up key moments in play in giant capital letters: "SPECTACULAR", "BOOM", "POWERFUL SPIKE".
When the early-morning sunshine gave way to thunder and rain, Brazilian world number one pairing Alison Cerutti and Emanuel Rego would have been forgiven for losing their focus, having been schooled on the beaches of their homeland, where the sport is hugely popular. But they battled on through in sodden vests to fight back from a set behind and avoid a major upset against 44th-ranked Austrian duo Clemens Doppler and Alexander Horst.
And, although a recent rule change allows women to wear shorts and sleeved tops, the duos from Spain and the Netherlands braved the elements in their bikinis to conclude a raucous morning's play.
"The weather had been perfect until today," said Spain's Elsa Baquerizo after her three-set victory with partner Liliana Fernandez over Dutch pair Marleen van Iersel and Sanne Keizer. "It makes the ball a bit heavier and slippery, but it's OK."
The weather didn't seem to dampen the spirits of the crowd either, who pulled on ponchos and huddled under brollies in an unsheltered stadium that was constructed in 36 days to avoid disrupting the Queen's Diamond Jubilee celebrations and required 2,274 tonnes of sand to be imported from a quarry in Surrey.
"It's been brilliant - the compere is getting everyone involved, clapping and shouting 'Ole'," said James Price from Birmingham, who was wearing a mask of the Queen to mark the occasion.
"There's alcohol, there are ladies - it's all good. My wife was supposed to come but unfortunately she's had to go to a hen do, so I've brought my friend along and he's quite pleased."
"This is the best venue I've ever seen for beach volleyball," said Thomas, a German living in London. "Being able to see the London Eye and so many other amazing buildings is awesome."
His compatriot Sara offered up a simple fix to make the sport just as popular among women as men.
"The guys should have taken their tops off too," she said. "I don't know why they keep their vests on."