Olympics 2012: Archery based at Lord's for London Games

By Sam Sheringham
BBC Sport at Lord's
Last updated on .From the section Olympics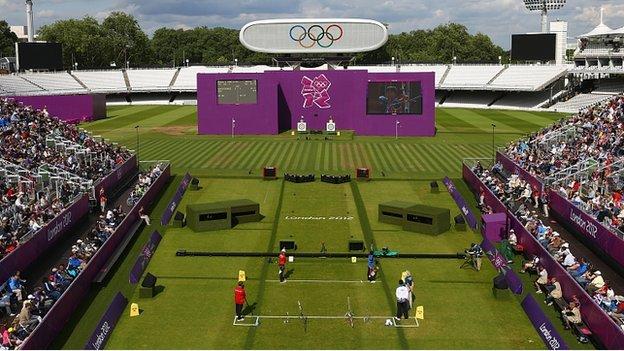 It must be a bit like handing over the keys to your house. Will they know where to put the cutlery? Will they remember to put the rubbish out on Sunday night?
The members of Marylebone Cricket Club (MCC), an institution so famously conservative that they only admitted women in 1999, have been moved out of their own fiefdom while Lord's hosts the Olympic archery competition.
There was not an egg-and-bacon tie in sight in the Victorian pavilion as archers mingled with media and officials ahead of the third day of competition on Tuesday.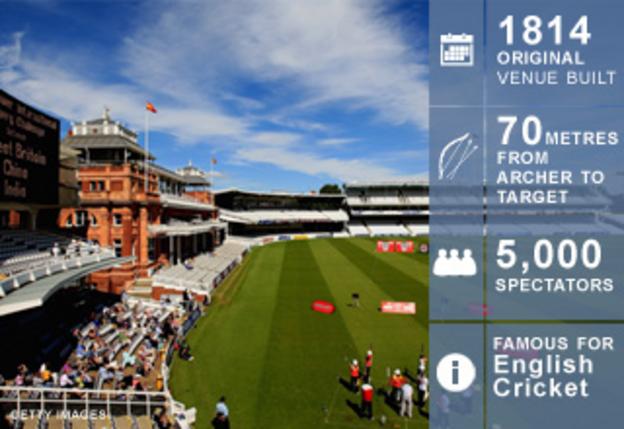 In the famous Long Room, known as 'the most evocative four walls in world cricket', a Coca-Cola-branded fridge was positioned uneasily in front of portraits of legendary batsmen Sir Donald Bradman and WG Grace, while the adjacent Long Room Bar had been rebranded the 'Protocol Office'.
Upstairs, MCC chief executive Derek Brewer and head of cricket John Stephenson have left their plush offices, which have views over the Lord's outfield, to make way for the archery doping controllers.
Stephenson had the look of a man forced to sleep in the spare room while the guests were staying as he passed through the airport-style security on the gate and weaved his way unnoticed through the cosmopolitan crowd.
Once seated on a damp bench behind the pavilion, however, the former England and Essex all-rounder insisted the MCC had taken its temporary eviction with good grace.
"Normal activities have been suspended for a while, but I think most members have accepted it and I haven't heard any real grumbles at all," he said. "They can still come in and play tennis and squash if they book a week in advance.
"Some of the employees are working from home and we can't have any meetings at Lord's, but it's a minor inconvenience.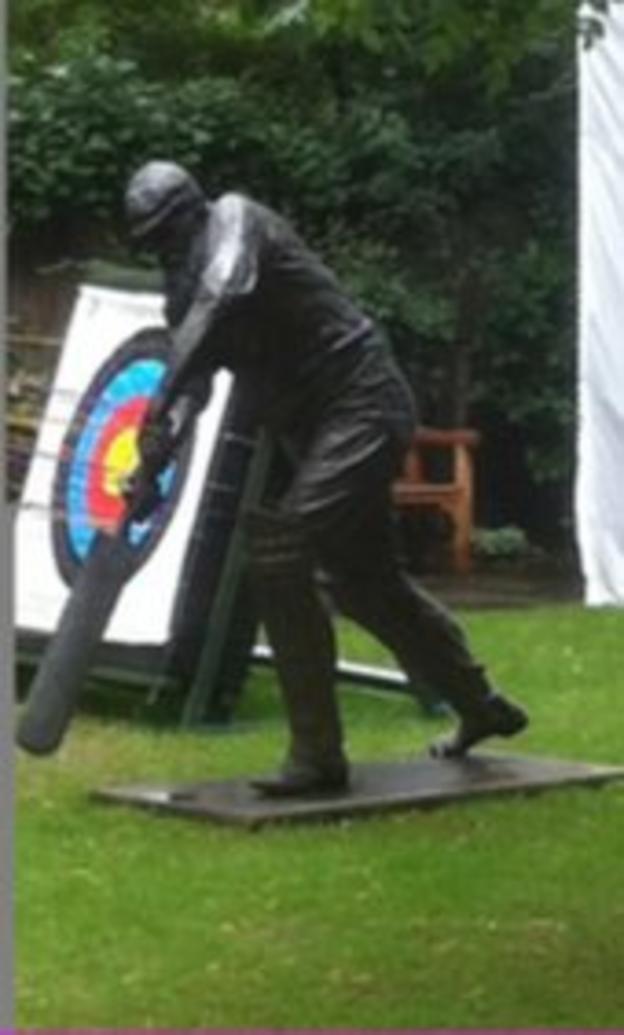 "The Olympics are a one-off event and we're excited about it. The venue is looking fantastic, the colours [the ubiquitous Locog purple and pink] work, it's extremely well-organised and, most importantly, the people coming are having a whale of a time."
Over in the Coronation Gardens, where members and their guests make merry over picnics and Pimm's during the intervals of Test matches, there were long queues of spectators eager to try their hand at archery.
Four targets had been assembled around a statue of Grace, who appeared to be fixing his assailants with a disapproving stare.
At the back of the queue, 36-year-old Michael Mueller from Germany admitted he knew very little about the sport for which Lord's is renowned.
"I never really tried to understand the rules of cricket but I have some Indian colleagues who are always going on about it," said the 36-year-old, who moved to Pimlico in London four years ago. "It's a fantastic backdrop for the archers. Maybe I'll come here to see some cricket next time."
Out in the middle, archers were competing head to head in the early rounds of the men's and women's individual competitions. Shooting from 70m at a bulls-eye the size of an apple, they fought to be the first to six sets, with each set consisting of three arrows each.
As at most London 2012 venues, there was plenty of man-made atmosphere to get the crowd in the mood, with archers entering to Maroon 5's Moves Like Jagger before the DJ cranked up some heavy base to build the suspense.
When matches were tied at 5-5, nervous competitors were put at their ease by a blast of Under Pressure by Queen before firing off the arrow that would decide their Olympic future. As a means of deciding a winner, it makes penalty shoot-outs look like child's play.
It was a disappointing day for the legions of Great Britain fans who had packed out the temporary stands as Naomi Folkard and Alison Williamson were both knocked out of the women's individual event before the last 16.
The competition will conclude with the men's final on 3 August, giving the MCC just 13 days to get the place in shape for the third and deciding Test between England and South Africa, and Stephenson is doing his utmost to "manage expectations" about the appearance of cricket's most famous patch of grass.
"It's not going to look as good as people expect from Lord's, which is usually the Augusta of cricket," he said, referring to the magnificent venue for golf's Masters tourmanent.
"People realise we have had a one-off event and the outfield will look a bit patchwork, but we will do everything we can to make sure it is safe for cricket.
"It's going to be a very well-planned logistical operation and we will make sure everything is fine on the day."
By then, Stephenson will be back in his plush office, the Long Room will be throbbing with members and the archery takeover will be a distant memory.
"I think when they are gone and this is all over, it will feel like a dream," said Stephenson. "Were they really here?"