Germany coach Ralf Holtmeyer unhappy at rowing seedings
Last updated on .From the section Olympics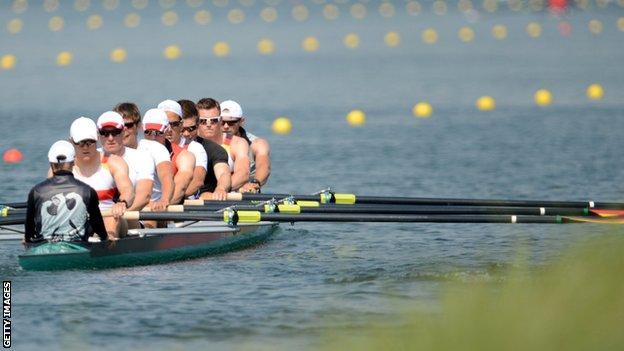 Germany rowing coach Ralf Holtmeyer has criticised the Olympics seeding system after his men's eight crew were handed a tough draw in the heats.
The German eight are favourites for gold but face Great Britain, reigning champions Canada and World Cup medallists Netherlands in their heat.
Holtmeyer was critical of the International Rowing Federation (Fisa).
"We were expecting one tough opponent [rather than three]. How can you call this seeding?" he said.
"You really wonder how Fisa does the seedings. We want to win.
"We'll take it one race at a time, but we cannot sit back in this situation."
The seedings are based on results from the 2011 World Championships and the last of this summer's three World Cup regattas, which took place in Munich in June.
However, Canada chose not to compete in Germany and were not seeded for the Olympics.
Fisa confirmed it received a complaint from an unnamed country which was later withdrawn.
Holtmeyer was also unhappy at the decision to move the final of the blue riband men's eight to Wednesday from its traditional Sunday slot as the last race of the regatta.
"There are a few jokes," he added. "The first one is that we have the final on Wednesday, the second one is the draw."