Shirley Robertson assesses Britain's sailing medal hopes

By Shirley Robertson
Two-time Olympic champion & BBC Sport pundit
Last updated on .From the section Olympics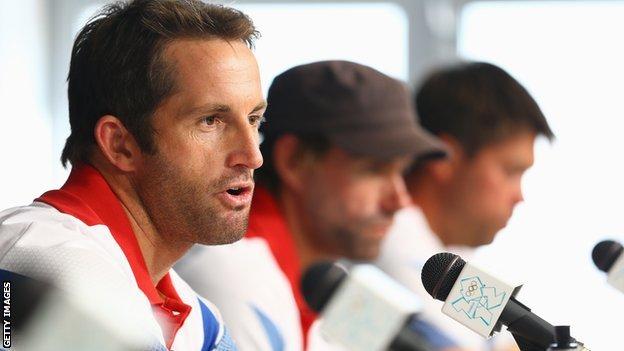 British sailors have realistic medal chances across all 10 classes for the first time in history.
From that, sailing chief Stephen "Sparky" Park has set a goal of four medals, which is quite conservative considering in Beijing they won four golds and six medals in total. I would think inwardly they are expecting to beat their best haul, but outwardly they are playing it cool. They have a nice balance of returning medallists who are ready to deliver and eager, talented youngsters who have raised their game, even in the last six months.
Ben Ainslie is going for a fourth gold and his prospects of winning the Finn class are, in my view, better than any sailor here. There are a lot of things that can happen in sailing, a lot of variables, which could potentially stop him, but it would be a big shock if he were not on the podium at the end of his competition. When you talk to his competitors they generally talk of silver.
His real battle was domestically, to make the team last year. If team-mates Giles Scott and Ed Wright had been here they would probably have all been on the podium. He's in good shape and is relaxed. It might seem like it all comes easy to him, but he works harder than anyone else. He is a perfectionist.
Defending Star champions Iain Percy and Andrew Simpson are pushing for gold and if it is normal Weymouth conditions - medium to strong breeze - I expect a fierce head-to-head with Ainslie's old rival Robert Scheidt. Percy has also gone to a Games and not come away with a medal, so he knows how to do it and how not to do it.
The 470 girls - Hannah Mills and Saskia Clark - could well win gold, even though they have only been together for just over a year. They won the Worlds in May, which gave them a huge confidence boost.
Windsurfer Nick Dempsey is another with a whole load of experience, both successful and terrible. He won bronze in Athens but slipped to fourth in Beijing after the final race. It was heartbreaking for him. But he is a different athlete now and incredibly focused. The French and Dutch sailors are likely to be the main threats.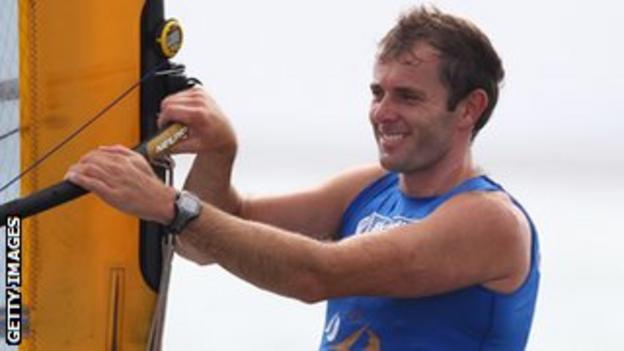 The 470 men - Luke Patience and Stuart Bithell - probably come next in terms of gold medal prospects. The Australians are favourites having won the last three Worlds. The Britons are confident and are enjoying the experience. I expect a medal from them and would be pleasantly surprised if it was gold.
Paul Goodison is the defending Laser champion but he is going to have a tough job to beat the Aussie Tom Slingsby. Having said that, Slingsby also went to Beijing as the favourite but finished 22nd. I don't think that will happen here, though. He is unbeaten here and conditions in China suited Paul. When it is light and shifty, Paul seems to have a sixth sense. Paul's a great all-rounder and can definitely finish in the top three.
The 49ers - Stevie Morrison and Ben Rhodes - are another crew with Australians in front of them in the form book. They were incredibly disappointed after finishing ninth in Beijing. They went in as one of the real medal hopes but it all unravelled. They felt like they had let everyone down and it took them a long time to recover. They are pretty strong now, mentally.
Six months ago you wouldn't have considered Alison Young in the Laser Radial as being a contender but she has really raised her game. She is very determined and is a phenomenal athlete. She rides a unicycle to training. She can ride it 500ft to the top of Portland, with no gears. If it is breezy every day she will be right up there.
Bryony Shaw won windsurfing bronze in Beijing but she has a tough job on her hands. In the RS:X there is a breakaway three - the Israeli, the Spaniard and the Pole - who train together and have raised the bar. But if Bryony has a good week she can get among them.
In the women's match-racing, Lucy Macgregor, Annie Lush and Kate Macgregor will have to beat American Anna Tunnicliffe and her crew, the favourites. But match racing is tough to predict because you are only one bad decision from going home. My gut feeling is if Lucy gets on a roll they will be there at the end.