Gareth Evans targets weightlifting British record on Olympic debut
Last updated on .From the section Olympics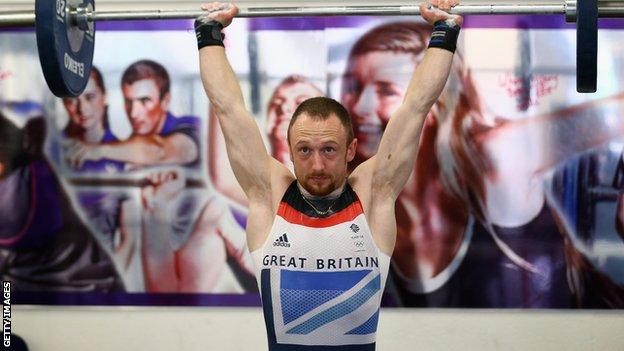 Weightlifter Gareth Evans has set his sights on breaking a British weightlifting record at London 2012 but concedes a medal will be out of reach.
Evans, originally from Holyhead, is the only Welshman competing for Great Britain in the weightlifting.
The 26-year-old represented Wales at the 2010 Commonwealth Games and will compete in the 69kg class in London.
"There are one or two British records floating about that I might be taking with a bit of luck," Evans said.
"I want a personal best and to entertain. If I do that, mission accomplished."
Evans, who started weightlifting after winning Britain's Strongest Schoolboy title, is almost the epitome of the Olympic spirit on show at London 2012.
The former painter and decorator may be ranked 61 in the world and has little chance of winning a medal but he is determined to do his best for his country.
"I am just dead excited for it," said Evans, who will make his Olympic debut on Tuesday.
"Six thousand people for a weightlifting competition - I have never lifted in front of that many people before.
"I just want to go out there, lift my best and entertain. If I do that, I will get a good reaction and I want to hear the crowd shouting for me.
"People keep asking me if I am nervous and I am but if you ask Chris Hoy, he will be nervous. Usain Bolt, even though he doesn't look like it, will be a little bit nervous."
Evans, who now lives in Leeds, admits life at the Athletes Village has been a revelation to him and is enjoying mixing with some of the genuine superstars of world sport.
"We were walking to dinner the other day and we walked straight into Usain Bolt. He was like a yard away," said Evans.
"I saw Ryan Giggs, Craig Bellamy and Micah Richards one morning and then Chris Hoy. They are all knocking about and everybody is friendly and on the same level.
"It's not like they are superstars, we are all Team GB. It's really nice and everybody is friendly."