Sailor Hannah Mills' appetite for Olympic success

By Steffan Garrero
BBC Wales Sport
Last updated on .From the section Olympics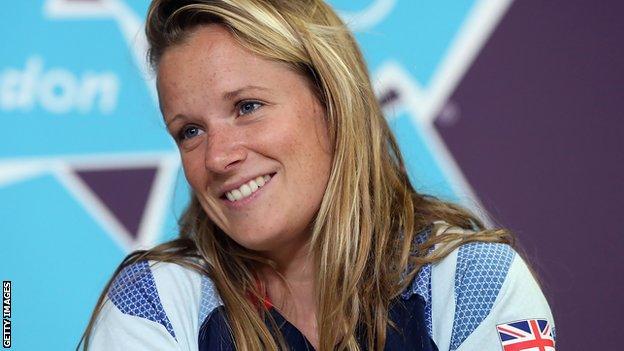 "I had a chocolate croissant actually," she chuckles as she answers.
"I don't think many Olympic athletes will be having that for breakfast this close to the start of the Games!"
It's a stock question for radio reporters as they ensure their technical equipment is fully functional.
Rarely does the answer to "what did you have for breakfast" lead to further conversation.
Olympic Sailor Hannah Mills smiles as she explains her weight gain programme.
"I've to keep it up to a certain level, which means constantly eating lots and lots... I can't wait to relax and not eat so much... I'm beginning to dread meal times 'oh no I'm going to have to pig out again'."
One of Wales' best gold medal prospects is in London for the Olympic opening ceremony, having travelled up from the sailing venue in Weymouth.
There is a constant smile on her face throughout our interview. She exudes a warm glow that comes with a life spent exposed to the elements.
In short, she has an infectious enthusiasm.
"The atmosphere is really starting to ramp up down there, but in London it's on a different scale; that's why we wanted to come up here to experience this," Mills adds.
Just 18 months ago Mills didn't have a realistic chance of making these Games, until she linked up with Saskia Clark in the 470 class.
"I'd been kind of wondering in the wilderness looking for someone good enough to sail with and luckily enough Sas was without a crewmate at the time," she explains. "We linked up and it all clicked into place."
She is a relaxed and self-assured; a sportswoman at the very top of her game.
Mills and Clark come into the Olympics as World Champions but the pressure of being favourites to win the 470 class appears to rest easily on their shoulders.
They begin their quest for Olympic gold on Friday.
"Winning the gold really showed the opposition what we could do. Up until then we'd been picking up silvers, but now we're no longer the bridesmaids I guess," she chuckles at the analogy she has drawn, and then airs a note of caution.
"But you don't want to get too drawn into what it would mean to win a gold at these games... I can't let myself think about that side of it."
Later that same evening Mills is one of the first British athletes to be spotlighted by the television cameras as Sir Chris Hoy leads the team into the Olympic Stadium during the opening ceremony.
She checks for a second, then darts towards the camera waving and dancing. The irrepressible smile is a constant throughout.
She may not feel ready for the attention which may follow should they top the podium in Weymouth, but Hannah Mills has all the makings of an Olympic star.