Elena Baltacha reveals she needs surgery and could quit tennis
Last updated on .From the section Olympics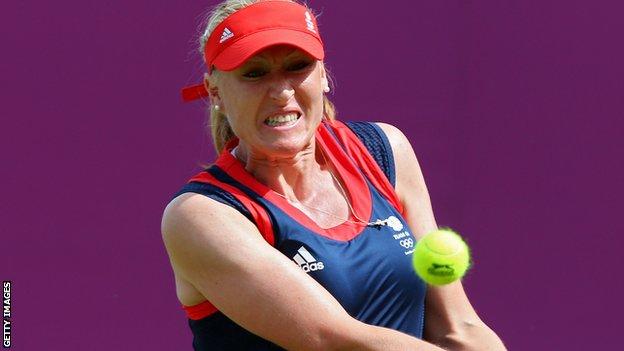 Great Britain tennis player Elena Baltacha has revealed she needs surgery on at least one of her ankles and could quit the sport.
"We're talking about taking six months and having the surgery done," she said.
"If I feel I enjoy life at home - I really want to give the Elena Baltacha Academy of Tennis (EBAT) my full attention - then I might stop."
Baltacha was sporting tape on both ankles at Wimbledon on Saturday and revealed her injuries had been troubling her for most of the year.
"I've had a problem with my ankle for the last year," she said. "We actually thought I had a stress fracture, which thankfully it wasn't."
She said doctors had advised her to have surgery.
"After all the trauma in the last five years on my ankle, the bone has grown an extra bit of bone. It just needs a little extra bit of shaving," she explained.
"They also found a loose body in my ankle. I've actually got it in my left foot as well, but not as severe."
The world number 102 has been dogged by injuries in the past. She was diagnosed with a liver condition, primary sclerosing cholangitis, when aged 19 and underwent keyhole surgery on a prolapsed disc in her back in 2006.
She previously said she would retire after London 2012, but revealed in November 2011 that she would "reconsider" those plans if she was still enjoying playing.
"I want to go on a little bit of a break," she said.
"I have my academy with the girls. I want to spend some time with them, see what that is like, be at home a little bit more. If I feel, after the surgery and doing my rehab properly, that I want to come back, then I will."