Shooting: Yi Siling's tears of joy after winning first gold of Olympics
Last updated on .From the section Olympics
When China's Yi Siling grabbed the first gold of the London Olympics in the women's 10 metre air rifle, she couldn't help but cry.
"I cried after winning the gold because it relieved all the pressure," admitted the 23-year-old.
The first gold of the Olympics always carries extra expectation. To China, it means more pressure.
The pressure was so intense at the 2008 Beijing Olympics that Du Li, a veteran shooter and defending champion could not cope and lost the first gold on offer on home soil.
Determined to help Yi keep a clear mind before Saturday's event, the Chinese shooting team shielded her and team-mate Yu Dan away from any disturbances.
There were even rumours that Du Li would become a last minute replacement for one of them to compete for the first gold.
Yi confessed she hadn't heard of any such news: "I secluded myself from all the information to keep a clear mind," she said.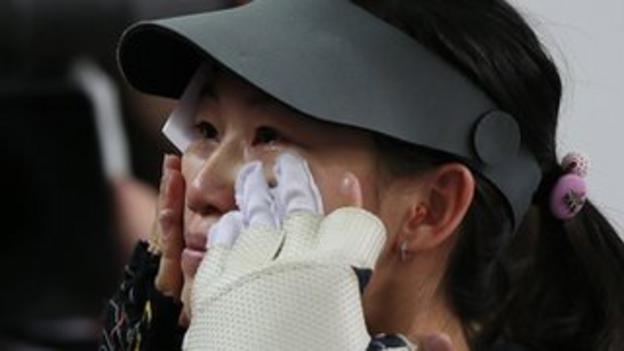 "I was very nervous from the very first shot to the last. I wasn't aware of what's going on."
Ever since sharpshooter Xu Haifeng made history by winning China's first shooting Olympic gold medal in the men's free pistol at the Los Angeles Games in 1984, the event has become a major sport and indeed, China have become a shooting powerhouse.
Like many other sports, the success of China's shooting owes much to the state-supported system of which the government pays talented athletes and provides them with facilities and coaching. There is a strong bond or attachment between individual athlete and various sports administrations.
Yi definitely feels she owes her success to the system.
"I thank my country, coaches and officials; they are very kind to me," she said.
When asked how she came into the sport, Yi said: "I am good at keeping steady and calm, that's the reason I take up the sport."
It is claimed that Yi was picked by a local shooting coach in Hunan Province because she piled up seven bullet shells effortlessly in a straight line.
China's athletes are renowned for their hard work, but Yi played down such an image.
"I only train one or two hours a day. Most of the time, I just play," she said.
One might take the words with a pinch of salt. China's domestic news has long reported how hard Yi trained and that she gets up to train at five in the morning.
One of the aims for the Chinese Olympic delegation at the London Olympics is to "demonstrate the new image of China's athletes", an image of a more colourful personality in addition to hard working.
"In my daily life I am quite a bubbly girl," added Yi. "I like singing and dancing. Whereas in training, I am introvert. "
Yi's first gold is also a good marketing vehicle for Chinese businesses. It's reported that she will get a luxury car worth 760,000 yuan (£76,000).
"I do think the gold medal can bring change to me," she said.
"I feel I am more matured. In terms of my life, it will also change to an extent."