London 2012 international digest - Day Two
Last updated on .From the section Olympics
A round-up of the latest news, views and gossip from the 2012 Olympic Games in London.
Menezes reveals teenage struggles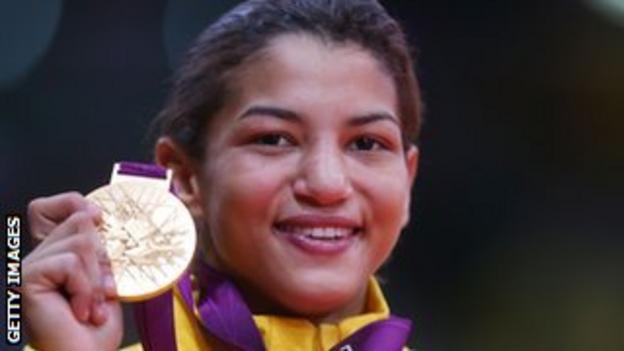 New Olympic -48kg judo champion Sarah Menezes has revealed that her parents tried to stop her from taking up the sport which they believed was only for men.
The 22-year-old from Brazil became the first woman from her country to win an Olympic judo gold on Saturday before admitting that she had to overcome a series of barriers to succeed.
"When I started judo my parents said it was a sport for men," she said. "The truth is that the major problem was my studies. So I came to an agreement with them. In order to continue in the sport I had to do well in my studies.
"When I started to travel [to competitions] my parents realised I had talent," added Menezes.
Hsing has top support
American table tennis player Ariel Hsing has some powerful friends who she hopes can inspire her to Olympic gold.
The 16-year-old is supported by American businessmen Warren Buffett and Bill Gates and, two days ago, met the First Lady Michelle Obama as well as swimming legend Michael Phelps.
Those encounters seem to have proved a source of inspiration, with Tsing moving into the women's singles third round on Sunday after beating Luxembourg's Xia Lian Ni, who is ranked 72 places higher in the ITTF standings, 4-2.
Surprise call-up for Vardhan
Unheralded Indian tennis player Vishnu Vardhan has earned a late call-up into the men's singles event at Wimbledon.
Vardhan, who is ranked 302 in the world, came into the tournament after Philipp Kohlschreiber pulled out through injury.
He will face Slovenia's Blaz Kavcic in the first round.
North Korean weightlifter pays tribute to late leader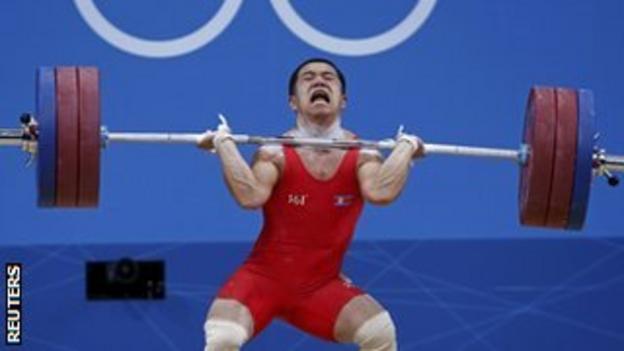 North Korean weightlifter Om Yun Chol thanked the country's late former leader Kim Jong-il as he set a new Olympic record in the clean and jerk element of the men's 56kg event.
Om lifted 168kg - three times his own body weight - to put himself in contention for a medal
"How can any man possibly lift 168kg?" he said after his impressive performance. "I believe the great Kim Jong-il looked over me."
Nigeria make debut in canoe slalom
Johny Akinyemi - an accountancy student from Cheshire - became Nigeria's first ever Olympian in the canoe slalom.
The 23-year-old, cheered on by a delegation from Nigeria's government, finished 21st out of 22 in the K1 but he said he was just pleased to be taking part.
"It's been a real privilege to have been given the opportunity to represent Nigeria at the Olympics," he said.
"I have had the full support of everyone in Nigeria. It was a bit of a shame not to get a better result, but I really enjoyed it."