Rebecca Adlington into Olympics swimming 400m freestyle final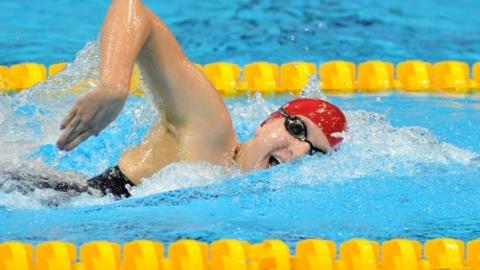 Olympic champion Rebecca Adlington scraped into the women's 400m freestyle final, after finishing as the eighth-fastest swimmer across the five heats.
Adlington completed the race in 4:05:75, beating Chloe Sutton of the United States into second.
But she faced an anxious wait as seven swimmers, including world champion Federica Pellegrini, went quicker in the following two heats.
It means she will start in an outside lane in Sunday's final at 20:13 BST.
"It felt faster than that but you just don't know being in the first heat," said Adlington. "I had no option, I just had to go for it."
She later tweeted: "Not expecting anything tonight. All I can do is my best."
France's Camille Muffat recorded the fastest time (4:03.29), while Allison Schmitt, Coralie Balmy, Lauren Boyle, Lotte Friis and Brittany Maclean also qualified.
Elsewhere, Britain's Georgia Davies and Gemma Spofforth qualified from their heats in the 100m backstroke.
Robbie Renwick (200m freestyle) and Liam Tancock (100m backstroke) also progressed in their respective events.
Former British world champion Karen Pickering believes Adlington may struggle to retain her 400m Olympic crown because of the way the event has evolved since the Beijing Games.
"It's always tough being in the first of the fast heats because you have to set the standard," said Pickering.
"The 400m freestyle has changed a lot, you have girls like Schmitt who is a good 100m swimmer who can take the race out and then is strong enough to hang on.
"Becky doesn't have that speed. She is an 800m freestyle swimmer who comes down to the 400m - she's about endurance.
"It will be really tough for her to get a medal."
Britain's 50m backstroke world champion Liam Tancock will also need to put in a strong performance in tonight's 100m event after qualifying for the semi-finals in eighth.
He dominated the opening 75m of his heat, but faded in the latter stages allowing world champion Camille Lacourt to touch first.
In the women's event Spofforth, who admitted she nearly quit the sport last year after a disappointing World Championships, looked sluggish in her opening race and qualified in 12th for tonight's semi-finals, with Davies sixth.
"Lots to improve on for tonight," Spofforth tweeted.
"Got a lane and living in the moment. Thanks so much to everyone for their support - means the world."
The men's 4x100m relay team failed in their bid to reach the final and there was further disappointment for Kate Haywood in the 100m breaststroke heats.
Tonsillitis ruled her out of the 2004 Olympics in Athens and she was 11th four years ago in Beijing but despite moving to Australia and training alongside 2008 Olympic champion Leisel Jones, her time of 1:09.22 was not enough for her to progress to the semi-finals.