Michael Jamieson buoyed for Olympic 200m breaststroke challenge
Last updated on .From the section Olympics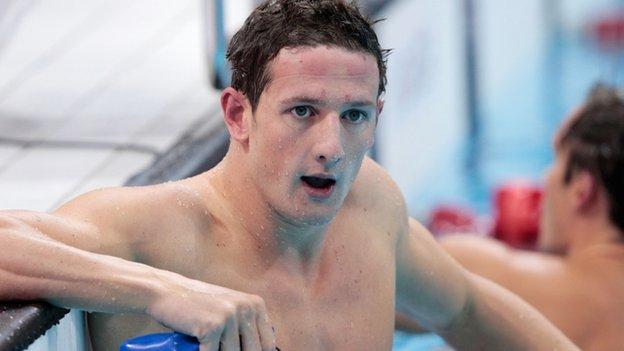 Michael Jamieson was staying positive after narrowly missing out on the Olympic 100m breaststroke final.
The 23-year-old became the first Scot to break the 60-second barrier as he finished third in his semi-final.
But he was only ninth fastest and will now look to go one better when he races in his main event, the 200m.
"Overall, I'm pretty happy about it as I took a big chunk off my best time. It is a special barrier to beat and bodes well for the 200," said Jamieson.
"It is going to be really tough and the margins for error are small, but I'm really looking forward to it."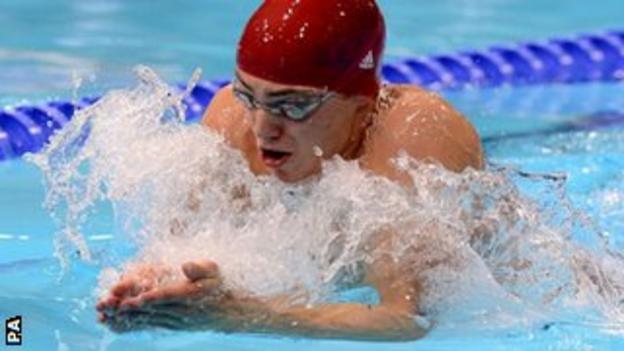 Jamieson's result came after Hannah Miley's medal hopes were dashed when his fellow Scot finished fifth in the final of the 400m IM.
She had suggested that the effort of just making the final was the reason why she was unable to produce a personal best that would have led to a bronze medal that would have been Britain's first of any colour at the games.
Jamieson concurred, saying he felt he was tying up near the end of the semi-final despite his time of 59.89secs.
"Being a 200 swimmer, I have to swim every 100 like a final," he told BBC Scotland.
"Obviously a little bit disappointed to miss out, but I knew that kind of time was there this season. I've been training really well."
Craig Benson also missed out on the 100m final, the 18-year-old finishing sixth behind compatriot Jamieson in a time of 60 seconds dead in his first major senior competition.
"I was really happy with the heat," he said. "I usually struggle in the mornings and to do a big PB in the heats was amazing for me.
"I went out in the heats as hard as I could and it probably tired me a bit for the semi-final."