GB men's four: Tom James wins opening heat in style
Last updated on .From the section Olympics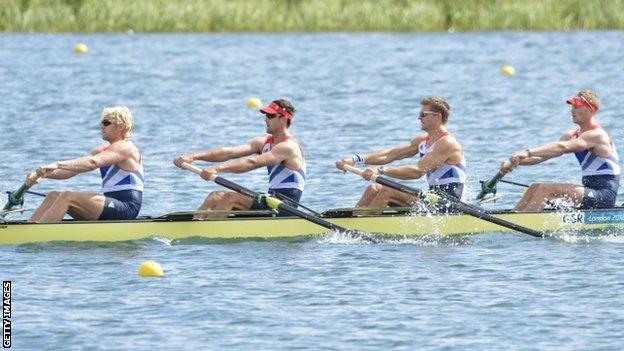 Welshman Tom James began the defence of his men's coxless four title with a comfortable victory in Monday's heats.
Main rivals for gold, Australia, had earlier set an Olympic record by winning their heat.
Both teams will next compete on Thursday in the semi-finals.
"It was a good starting point," said James.
"Our last race was about six weeks ago and we have made quite a bit of improvement since then but you never know what that means until you have opposition.
"So getting the first race out of the way is a relief.
"We know there is a big expectation on us but everybody has been supportive and not demanding or critical about anything.
"It's a good platform to be relaxed, especially when the next races are going to have more pressure, be tighter and more difficult.
"It's not about markers, but we have to get to the final and that is the number one goal. So we have to get top three in our semi final.
"At the back of your mind, you are thinking of the gold medal because that is why we are doing this."
The British men's four arrived at the Games on the back of defeats by Australia in the semi-finals and final of the last World Cup in Munich.
But they have appeared relaxed in the build-up to this event after a tough six-week training camp and sent out a message of intent with a strong opening performance.
The British looked incredibly comfortable all the way through the race, looking for a response after Australia's majestic display moments earlier.
Australia had laid down the gauntlet by setting an Olympic best of five minutes 47.06 seconds, taking 1.4 seconds of the previous best set by Germany in Athens eight years ago, to progress.
James showed no ill-effects after a fitness scare on Wednesday when he missing training because of a raised heart rate.
Earlier this year, James was treated for atrial fibrillation, a condition which caused an abnormal heart rhythm.
James took a year off following his success in Beijing and then suffered a back injury that kept him out for most of 2010.
But he bounced back to full fitness and was picked ahead of Alex Partridge for the final spot in the GB boat.
James and his team-mates prepared for the 2012 Games with gold at the Lucerne and Belgrade World Cups before silver in the Munich World Cup, losing out to Australia.