Olympics 2012 drugs: Gymnast expelled over failed test
Last updated on .From the section Olympics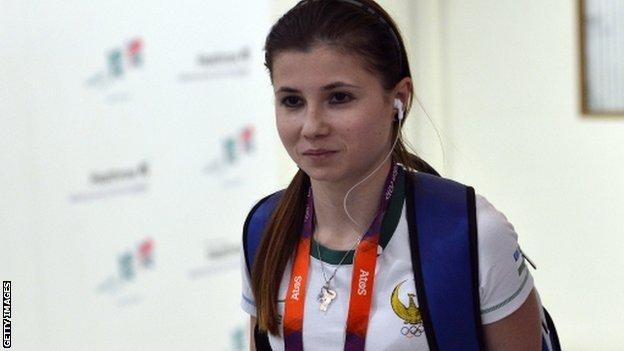 Artistic gymnast Luiza Galiulina of Uzbekistan has been thrown out of the Olympics after failing a drugs test.
Galiulina, 20, was initially suspended after testing positive for the banned diuretic furosemide on 25 July.
Her "B" urine sample has since confirmed the original finding, the International Olympic Committee said.
Galiulina told an IOC disciplinary commission in London on Saturday that she did not know how the substance had entered her body.
Furosemide is prescribed to induce urination and lower blood pressure but it can act as a masking agent for other drugs.
Galiulina, from Tashkent, told the hearing she had been treated by her mother at the end of June, when she was sick for two weeks, and had taken medication for a heart condition on 22 or 23 July.
An IOC statement said: "The International Olympic Committee today announced that Uzbek athlete Luiza Galiulina has been excluded from the Games of the XXX Olympiad in London.
"Galiulina provided a urine sample on 25 July that tested positive for the prohibited substance furosemide. The analysis of the B sample confirmed the results of the A sample."
Her case will passed on to the International Federation of Gymnastics, who will consider further action.