Paula Radcliffe is a legend, says Jonathan Edwards
Last updated on .From the section Olympics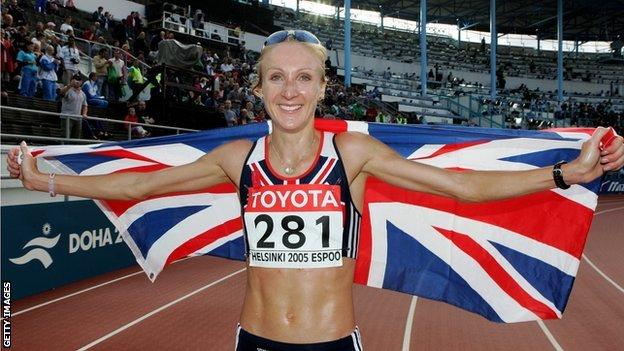 Jonathan Edwards says Paula Radcliffe should go down in history as one of Britain's greatest athletes.
Radcliffe, 38, because of a foot problem, ending hopes of adding an Olympic medal to her list of accolades.
But Edwards believes her achievements still mark her down as a legend.
"She should be remembered as one of our greatest athletes of all time," Edwards, who won Olympic triple jump gold in 2000, told BBC Sport.
Radcliffe says she will not be rushed into any decision about her future following yet more Olympic heartache.
"Now is the time to rest totally, give my body chance to recover and assess calmly what can be done and where I go from here," she said in a statement.
Edwards says whatever she chooses to do, she should be happy with her career.
"My honest opinion is that it's the end for Paula," he said. "If it is, I hope, despite her Olympic experience, she can look back and be incredibly proud of what she has done."
Radcliffe is the current marathon world record holder and a former marathon world champion. She has also won European and Commonwealth Games gold in the 10,000m and 5,000m. Yet she has never won an Olympic medal.
She has competed in four Games from 1996, her best performance coming in 2000, when she finished fourth in the 10,000m.
She was favourite to win marathon gold at the 2004 Games in Athens but failed to finish the race, having been made ill by medication taken for an injury in the run-up to the Games. In Beijing in 2008, she finished in 23rd place.
Radcliffe still thought she could break her Olympic duck in London, despite her inconsistent form in the build-up. Now that chance has gone.
"I think Paula will be absolutely heartbroken," Edwards told BBC Sport.
"It is unlikely she would have challenged for a medal, although she would have believed she could, but to have run in London and to have finished with her head held high after all the heartache she has had in previous Olympic marathons would have been very important to her.
"To have experienced the warmth that the British public have for her on the streets of London would have been an incredibly therapeutic experience, given the trauma she had, particularly in Athens."

Edwards says Radcliffe's Olympic struggles demonstrate that winning gold is never easy.
"This just shows how tough it is to win an Olympic Games," he said. "You rely so much on good fortune to even get there. To arrive at an Olympics in your best shape is hard and just hasn't quite worked out for Paula."
Edwards still believes Radcliffe's reputation is undiminished despite her lack of success at the Olympics.
"She should be remembered as one of our greatest athletes of all time," he said.
"She has been a great ambassador for the sport in terms of attitude. Her single-minded focus, to be as good as she can be, the way she has overcome all the disappointments she has had - a lesser person would have been out of the sport long before now."
Edwards is in no doubt that Radcliffe is a big favourite of British athletics fans.
"I think Brits love a plucky loser and Paula epitomised that," he said.
"It's the mindset and attitude she brings to the sport that makes her so popular. She was incredibly courageous.
"Initially, she never quite managed to win a medal on the track. She set the pace but would never have the speed at the end and the African runners would sprint away."
Nevertheless, Edwards insisted her marathon world record, set in London in 2003 and still standing, is a glowing testament to her ability.
"When you consider long-distance running has been dominated by the Africans and she has got one of the hardest world records out there, it is absolutely outstanding," said Edwards. "What she has done on the roads in the marathon has been incredible.
"There was that brilliant run in Munich, when she won the European title over 10,000m in the rain. It was an outstanding run."
Edwards also praised Radcliffe for her anti-drugs stance.
"She should also be remembered for her fight against doping," he said. "She has been very outspoken and that is very important as well. I think she is an inspiration to everybody."