Shooter Elena Allen overwhelmed by London 2012 crowd
Last updated on .From the section Olympics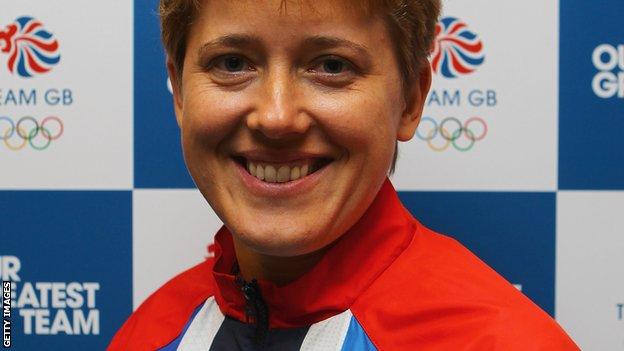 British shooter Elena Allen admits she was overwhelmed by the occasion following her failure to reach the women's Olympic skeet shooting final.
The Russian-born 40-year-old from Newport finished 14th after three qualifying rounds at Royal Artillery Barracks in Woolwich.
"Nothing seemed to go right today," Allen aid.
"I was actually on top form coming into this competition and it's just devastating."
Allen finished a disappointing 14th from a field of 17 with a score of 60 out of 75 and said the felt the pressure of an expectant home crowd.
"I think after I shot first station on the first round and all the clapping started [it] just threw me," Allen added.
"I expected it could possibly happen. It was more likely to happen than not but I wasn't that well prepared for it.
"We don't normally have crowds and we certainly don't have people clapping.
"This is a mental game. People that are here, most of them can shoot and most of them can shoot well.
"I know I can win a medal and I know I can win this, which makes it more so painful. If I didn't think I could do it then it would be different."
Despite her London disappointment, Allen says she is determined to compete in Rio de Janeiro in four years' time.
"I'll certainly be working towards it," Allen said.
"I have a lot to take away from the five months I've been working with my new coach. That will be quite a positive thing."
"What he's given me has been wonderful."