Nicole Cooke praises GB women's cycling as Armitstead takes silver
Last updated on .From the section Olympics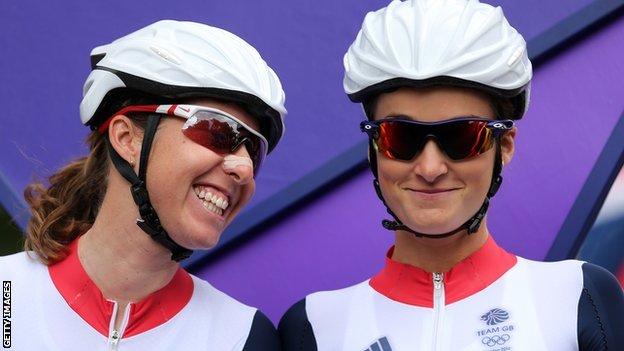 Nicole Cooke praised the major strides women's cycling has taken since the 2004 Athens Olympics as she celebrated playing a part in Lizzie Armitstead's silver in the London 2012 road race.
"Women's road racing and cycling has moved on so much over the years. It's not just me by myself, like it was in Athens," said Cooke.
"We've really now moved on so that GB is now one of the strongest nations."
That was borne out as Armitstead took silver, the 23-year-old being out-sprinted by Dutch woman Marianne Vos in the closing stages.
Cooke, who finished 31st, said: "We wanted to continue the success from Beijing and it's just amazing what Lizzie's done so we couldn't have done any better.
"We prepared for everything so you just have to get on with it.
"We showed that when it counts, we ride as a team and we can deliver so yes, it's a wonderful day and brilliant to continue the success from Beijing.
"I'm pretty tired, but very, very happy for Lizzie and the girls. We did a great ride.
"We knew that with Lizzie, myself, even with Emma we really were capable of bringing home a medal and that's one of the beautiful things about bike racing."
Cooke admitted harbouring hopes of making a serious bid to retain her Olympic crown in a race than began and ended at The Mall.
But the way the race panned out restricted Cooke to a supporting role alongside Emma Pooley to give Armitstead the chance of a podium finish.
Cooke believes the course would have made it impossible to make a solo break, adding: "You have to ride as a team and Lizzie took her chance today and got the medal and if I'd had my chance I would have gone for it."
She now intends to take in as much of the Games as possible, but was coy about whether or not she will attempt to compete at the 2016 Games in Rio de Janeiro, Brazil.
"We'll see," was Cooke's response when asked about her future by BBC Radio Wales.