Victoria Pendleton tips Anna Meares for Olympics sprint gold
Last updated on .From the section Olympics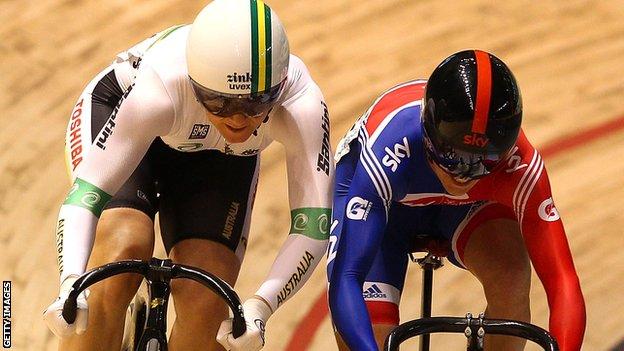 World and defending Olympic champion Victoria Pendleton believes long-term rival Anna Meares is favourite to win the sprint title at London 2012.
"She probably has the advantage, because her performances over the last 12 months have been more solid than mine," said Briton Pendleton.
Qualification begins on Sunday 5 August with the final the following Tuesday.
The track programme as a whole gets under way on Thursday with the men's and women's team sprint.
A lot has been made of the rivalry between Pendleton, 31, and the 28-year-old Meares - whom the Briton described earlier this year as a rider who "pushes the rules".
But Pendleton, who was the subject of a recent BBC documentary, admits it is nothing more than you would expect from two competitors both going for gold.
"The rivalry thing between Anna Meares and myself has been blown out of proportion and sensationalised to make it sound worse than it really is," she said.
"We're just two individuals who happen to have reached the top of our performance in our sporting lives at the same time, so we meet each other often.
"I have a huge respect for Anna Meares and I know that she has for me. We're just very competitive individuals and our performances have converged at the same moment."
Pendleton, who is set to retire after the Games, will also compete in the keirin and team sprint, alongside Jess Varnish.