Lizzie Armitstead speaks out after winning silver medal

By Matt Slater
BBC Sport at London 2012
Last updated on .From the section Olympics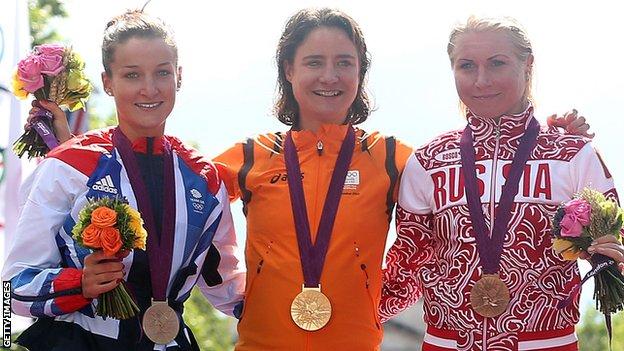 Lizzie Armitstead has always known her own mind and has never been afraid to challenge authority.
So it was with some regret that she had to pass up the chance to bend the ear of world cycling boss Pat McQuaid when the Irishman visited the start of the women's road race on Sunday.
The International Cycling Union (UCI) president was looking for a photo opportunity; what he nearly got was a piece of Armitstead's mind on the issue of equality in cycling.
With an Olympic medal to ride for, Armitstead decided against it, instead focusing her energy on the race and coming away with a silver medal.
Only added to the Olympic schedule in 1984, the women's road race is still a junior version of a men's event that has been in the programme since 1896.
Considerably shorter in distance, the women's race is also about 80 competitors lighter. This may have been justified when women's road racing lacked the depth of the men's circuit, but not anymore.
As Armitstead pointed out after a thrilling race that was every bit the equal of the men's event, a field of just 66 is an embarrassing anachronism when the riders are more used to competing against at least 150 highly trained rivals.
"The sexism I have encountered in my career can get quite overwhelming and very frustrating," the 23-year-old told reporters after the race.
"You just get used to it, though, and there's not much I can do it about it now as an elite athlete. But I certainly hope to after my career is over."
Consider yourself warned, Mr McQuaid. And it will not just be the size of the Olympic road race that is on the agenda - Armitstead is on the warpath over the inequality that still exists between men's and women's cycling in terms of media exposure and money.
He should be under no illusions as to his debating opponent: born in Leeds, raised in Otley, Armitstead does not want for Yorkshire grit.
This is somebody who, at the age of just 10, told her parents she was sick of eating "corpses" and wanted to become a vegetarian. Carol and John knew better than to argue with their deceptively steely daughter.
And they must have recognised the signs five years later, when their sports-mad (but not necessarily sports-star) girl was spotted by a British Cycling talent scheme and told she could achieve something special.
They did not have long to wait, a silver medal coming from the 2005 Junior World Track Championships. Within three years, she would be a two-time European U23 champion. Suddenly, a place at university did not seem so important.
Those early successes all came in endurance events on the track - the points and scratch races being her specialities - so a move to the road was always on the cards at some point.
But that transition still seemed some way off when she burst on to the senior scene by winning three golds - points, scratch and team pursuit - at the Manchester stop of the 2008 World Cup Series.
A year later, at the World Championships, she would claim a team pursuit gold, pick herself up after a fall to earn a silver in the scratch race, and then ride through the pain to claim bronze in the points.
But just when it seemed she was set to become Britain's next track superstar, Armitstead's attention moved to the road. You could hardly blame her; she kept winning races there too.
Having played a role in helping Olympic champion Nicole Cooke to the 2008 road race title at the Worlds, Armitstead started to build an impressive CV of her own. Two stages at the Tour de l'Aude, three at the Tour de l'Ardeche, she was fast becoming the female Mark Cavendish.
The similarities do not stop there: she is not one to suffer in silence. When it seemed that Cooke had failed to return the favour at last year's World Championships, Armitstead spoke up.
The pair have patched up their differences since then, and it is to both riders' credit that there was no confusion as to who was Team GB's best prospect in London.
And so it proved. Having prayed for a lively race and rain, Armitstead spotted her opportunity with 20 miles to go and grabbed it.
It says much about her character that it was the youngest woman in the breakaway trio who appeared to be encouraging her fellow escapees, Marianne Vos and Olga Zabelinskaya, to greater efforts to keep the chasing pack at bay.
Vos probably did not need the pep talk, but Zabelinskaya did, a point Armitstead acknowledged later when she remarked "well, she did get the bronze in the end".
There will be a part of Armitstead wondering if she could have done more to win gold. She should not spend too debating that: this was a silver won, not a gold lost, and Vos is a rare talent.
Armitstead is too, though, and there are more gold medals on her horizon, on the road and the track.