Olympics tennis: Wimbledon, but not as you know it

By David Ornstein
BBC Sport at Wimbledon
Last updated on .From the section Olympics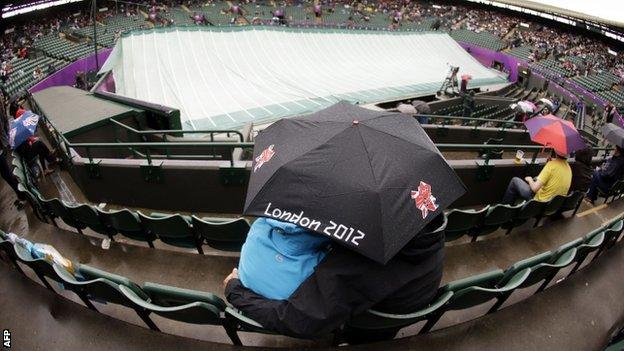 It looks different, sounds different and feels different - the Olympic tennis event is taking place at Wimbledon, just not as we know it.
One of Britain's great sporting institutions, steeped in proud tradition and strict protocol, is almost unrecognisable from its usual self.
Mauve hoardings, coloured kits, raucous crowds, pop songs and a beverage formerly known as Pimm's; London 2012 has taken over the All England Club.
"It's definitely weird," explained five-times Wimbledon singles champion Serena Williams. "I love playing Wimbledon but this atmosphere I didn't expect. It's bananas, and I love it."
Saturday's doubles tie involving Andy and Jamie Murray felt more like a football match, the crowd living every high and low with remarkable emotion.
Those scenes have been replicated across the grounds in the first two days of competition, and the excitement will only heighten as the week goes on.
Pomp replaced by passion, restraint by roars and etiquette by energy. Flags, scarves, face paint and hair spray - anything to show your nation's colours.
"They start the Mexican wave after one set," said Roger Federer, a seven-time winner in the Wimbledon singles. "During Wimbledon, it took me an entire tournament and four sets against Andy Murray in the final to get one!
"There's music when you enter the court, you walk on separately to your opponent and we don't only wear white. Many changes and they all add to a new feeling."
These changes extend beyond the gates: Diane and Michelle from East Grinstead are pleasantly surprised to encounter a gaggle of volunteers at Wimbledon train station; Richard and Millie from Guildford delight at news of a complementary shuttle bus.
Military personnel, road closures and airport-style security form a daunting perimeter, yet Kerry and Jack from Wandsworth feel "reassured" by the provisions implemented.
Saturday's lengthy queues outside the box office were caused by people trying to collect tickets for other Olympic venues or wrongly assuming ground passes were available on the door.
No camping out, no on-the-day tickets, no resale. This show is a sell-out, or so we're told.
Once inside, smiling children are posing for photos with Games mascot Wenlock, a group of girls sing along as a string of tunes blare out over the public address system.
The secluded Aorangi Park practice site is out of use, so fans gain the rare privilege of watching star names warm up at close proximity on outside courts.
They can also see players being interviewed in a mixed zone on the press centre roof and, depending on their seats, inadvertently listen to radio or TV commentary during matches.
Unlike at Wimbledon - when broadcasters work in soundproof booths - during the Olympics they are grouped together at the back of a stand. Enjoyable for some, unbearable for others.
Many race towards Henman Hill, pitching up in front of a newly erected stage. The Pet Shop Boys played there on Saturday, with a flash mob of dancers deployed to get the party started.
Fancy a Pimm's? Ask for a "No.1 Cup". Strawberries and cream? Available if you search hard enough. Newsagent? Closed. If you're not an Olympic-endorsed brand or logo, you don't exist.
All Wimbledon signage has been covered, refreshment kiosks given names such as "Grill", "Treat hut" and "Speciality coffee", the merchandise shop transformed into a London 2012 shrine, and a fee charged for entrance to the museum.
Even soap dispensers in toilets have white stickers plastered over the names of their manufacturer.
All this and we are still yet to mention the tennis.
"The best thing about it is the 64-player singles draws," explains Andrea, a Federer supporter from St Gallen in Switzerland. "That means big names in every match, amazing for the fans."
Questions have been raised about the grass quality - the Olympic event started 20 days after the Wimbledon men's final, baselines are already muddy and the surface is slippery.
"But that's no different to the opening few days at Wimbledon," says Andrew from Liverpool after seeing Andy Murray win on Sunday. "Another similarity is that it rained today!"
A tradition that will remain whether the Olympic movement likes it or not.