Olympics football: Hope Powell savours Games experience

By Paul Fletcher
BBC Sport at Wembley
Last updated on .From the section Olympics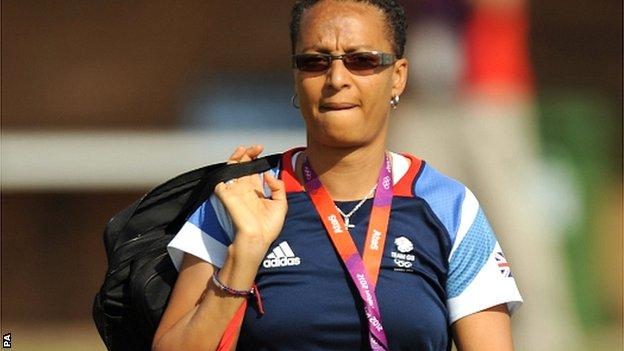 Great Britain coach Hope Powell described her team's Olympic experience as "mind-blowing" ahead of Tuesday's match against Brazil at Wembley.
And while empty seats have been a story of the Games so far, around 70,000 fans are expected at the Group E decider.
"I am hoping the big crowd will inspire the team," said Powell.
"The Olympic experience is unique. It's a once-in-a-lifetime opportunity. If you can't enjoy it as a player or staff you shouldn't be involved in sport."
GB and Brazil have both won their opening two fixtures and are through to the quarter-finals.
Tuesday's match will determine who wins the group - and thus which team will in theory have the easier task in the last eight.
The record crowd for an Olympic women's match is 76,489, recorded at the 1996 Olympics in the USA. A late surge in ticket sales could see that broken at Wembley.
"Brazil have got to Olympic finals and are always there or thereabouts, their style is similar to their men's team and Tuesday's game does warrant the build-up and attention," added Powell, who twice played at the old Wembley for England.
"It shows women's football is in the spotlight. The players are really pleased. They have really enjoyed the attention and the coverage; they have risen to the occasion.
"It is a very new experience for us and we are enjoying every moment."
Before heading back to the Olympic village on Sunday, Powell's squad travelled to Wembley to watch the GB men's team beat UAE 3-1.
The 18-strong squad met and had their photographs taken with David Beckham and Prince William.
"David had sent me a few emails beforehand, which I passed on to the girls. I am not sure they believed me," added Powell.
"On Sunday, I told them he was going to try and see them in the village. They went crazy, but I was just joking. To actually meet him last night, they were absolutely made up.
"They combed their hair about a thousand times and put lipstick on. Those are one-off moments that you will treasure forever."
Midway through a news conference on Monday, Powell was briefly distracted by a phone call. It came from Dame Kelly Holmes, who had previously addressed both GB football teams about what to expect from life in the Olympic village.
"She said we are not just footballers, we are now Olympians," said Powell. "That really stuck with the girls. We have used that as a reminder. That whole Olympic life, striving for brilliance and excellence, it rubs off."
Powell added that she had walked past swimmer Rebecca Adlington and several boxers at breakfast.
"It's just surreal at times," said the GB coach. "You have this mini world of different athletes, thinking: 'I wonder what that person does?'"
But more than anything else, Powell is hopeful the performances of her team will significantly boost the profile of the women's game in Britain.
"When we talk about legacy, participation, showcasing the sport, what a stage to do that on," said Powell.
"We want to drive participation. We want to increase numbers in women's football. We want more of everything - more support for the game, more girls playing. This gives us a great opportunity to showcase the talent.
"All the media attention we have had so far will encourage people to get involved in the sport and recognise that we are a sport of value."