Olympics table tennis: Natalia Partyka happy with experience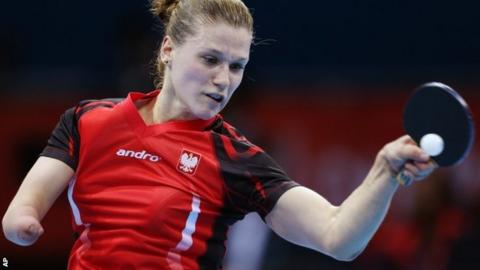 Polish table tennis player Natalia Partyka believes her Olympic experience will help her when she takes part at the London Paralympics.
The 23-year-old, who was born without a right forearm, lost 4-2 in her third round Olympic singles match to Jie Li of the Netherlands on Sunday.
"When I play here in the Paralympics I probably will be at an advantage, having played here already," she said.
"But everybody else will get the chance to practise here, so will be prepared."
Partyka is one of only two athletes, along with South Africa sprinter Oscar Pistorius, who will compete at both the Olympics and Paralympics this year.
She still has the team event to come and then will defend the Paralympic singles title she won four years ago in Beijing.
"For me, [disability] is nothing," she added. "I am playing the same lines as the others. I am doing the same exercises.
"We have the same goals and the same dreams and I can play like them. I can serve and don't have any problems.
"I get a bit bored about being asked about disability all the time."
However, Partyka is happy if her achievements act as an inspiration to others.
"Maybe someone will see me and realise that their own disability is not the end of the world," she said.
"Maybe someone will look at me and think they can achieve something bigger than they thought. Maybe sometimes you have to work a little bit harder if you really want to do something. If I'm an inspiration I can't complain."