Georgia Davies saddened by semi-final performance
Last updated on .From the section Olympics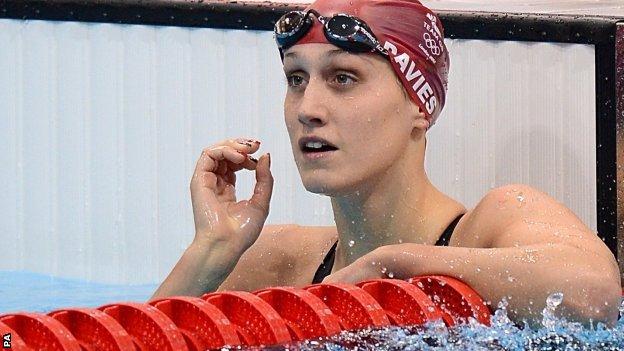 Georgia Davies says the demands of the morning heat took its toll as she failed to reproduce her best form in the evening semi-finals.
Davies recorded her second fastest career time of 59.92 seconds to reach the 100m backstroke semi-finals, qualifying as the sixth fastest.
But she was 15th fastest a few hours later and over half a second slower.
"I'm disappointed because I thought I was in good form and people tend to go quicker at night," Davies, 21, said.
"I didn't feel as nervous last night so I was hoping to better my morning performance.
"But I think perhaps the whole excitement, the pressure of knowing I had to go all guns blazing in the morning and give it everything I had - I just didn't recover properly in time."
Despite the disappointment of failing to reach the final, Davies said her Olympic debut had been an experience to savour.
"I've had a lot of messages on Facebook and Twitter, it's overwhelming really the amount of support there is," she told BBC Radio Wales.
"The crowd last night was amazing too - really getting behind the British swimmers. I've never swam in front of such a big crowd, especially a home crowd with everyone supporting you.
"I was definitely really aware of it in the morning heats. I could hear them right through the race and it really did carry me through.
"Last night was another level again because of the semi-finals and finals."
Davies, from Swansea, now hopes to have performed well enough to force herself into Great Britain's relay team.
"We're not going to find out until Tuesday or Wednesday who will be swimming in the relays," she said.
"There are quite a few different options so it'll depend. Obviously a few of the other countries have got strong teams so we want to make sure that we're safely through to the finals. That's up to the coaches to decide."