Swimmer Jemma Lowe and rower Chris Bartley maintain medal hopes
Last updated on .From the section Olympics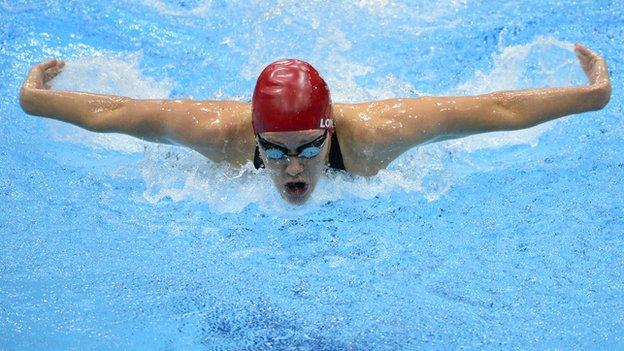 Welsh swimmer Jemma Lowe squeezed into the 200m butterfly final as last qualifier in the semi-finals.
Lowe clocked 2:07.37 for fifth in the second semi-final.
But Ieuan Lloyd's 4x200m freestyle relay medal bid was dashed as GB were sixth in a race the United States won.
Rowers Chris Bartley [lightweight coxless four] and Victoria Thornley [women's eight] made finals while weightlifter Gareth Evans also impressed on Tuesday.
Bartley, from Wrexham, and his crew cemented their billing as gold medal contenders, qualifying fastest from the two semi-finals.
Lowe, who swims for Swansea, reached the evening semi-finals by qualifying third fastest from the four heats with a time of two minutes 07.64 seconds.
Lloyd was not selected for the 4x200m freestyle relay team, but made the team for an Olympic final debut.
Afterwards he said: "It was everything I thought it was going to be.
"As I came out I was hit by the noise and it was special to be part of."
Evans achieved his goal of setting two personal bests as he made his Olympic debut in the 69kg category at the weightlifting.
The 26-year-old from Holyhead, who finished eighth overall in Group B, broke the Welsh clean and jerk record by lifting 158kg.
He equalled the Welsh record of 130kg in the snatch but missed out on breaking the 10-year-old British record with a failed attempt at 133kg.
Hockey player Sarah Thomas, who scored in her side's 4-0 victory over Japan, also played her part inGB's 5-3 win over South Korea.
Also, at the Millennium Stadium Japan and South Africa drew 0-0 in a Women's Football Group F game.