Bradley Wiggins: Can he win Olympics cycling gold in time trial?
By Anna Thompson
BBC Sport
Last updated on .From the section Olympics
Tour de France winner Bradley Wiggins could overhaul Sir Steve Redgrave's British Olympic record medal haul with a podium finish in the men's time trial on Wednesday.
Wiggins has six Olympic medals to his name - three golds, one silver and two bronzes, all in track cycling - but another medal would seal his place as Britain's most successful Olympian.
But can Wiggins do it, does the course suit him and who are his main rivals? Olympic gold medallist Chris Boardman gives his views.
What is a time trial? "It's each individual cyclist against the watch. It's about your own judgement and pace. It comes down to you against yourself, cycling as hard as you can go."
The course:Both the men's and women's time trials will start and finish at Hampton Court Palace.
The women will cover 18 miles (29km), heading south-west past Esher towards the M25 before looping around at Cobham and heading back up to the palace.
The men will ride an extended 27.3-mile (44km) route, with an extra loop at the start around the Bessborough and Knight reservoirs, and a second diversion towards Strawberry Hill just before they cross the line.
Time: Cyclists will be sent off at 90-second intervals. The women's race starts at 12:30 BST and the men at 14:15 - who's going to win?
BRADLEY WIGGINS, 32, GREAT BRITAIN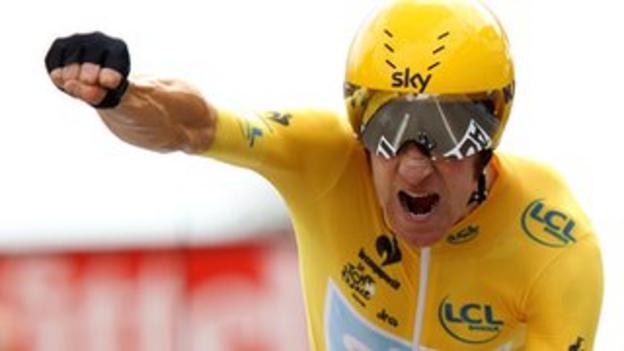 Wiggins has had a phenomenal year, culminating in becoming the first Briton to win the Tour de France yellow jersey.
He is also a time trial specialist and has been in exceptional form against the clock, comfortably winning the two long time-trials included in the Tour de France, not to mention those in the Criterium du Dauphine, Tour of Romandy and Paris-Nice. He also won a silver medal at last year's World Championships.
Chris Boardman: "After the month he's had, with the Tour de France and the Olympic road race, he's tired. But I'd say he's still odds-on to win. I've been speaking to Dave Brailsford and he told me Bradley laid it down for Cavendish in the road race, which was very magnanimous of him.
"They wanted to commit to Cav, which could sacrifice his medal possibility here, but I think he's certainly very capable of winning and the course, which is rolling at best, will certainly suit Bradley."
Great Britain cycling performance director Dave Brailsford : "Brad seems absolutely fine and good to go. He did go very deep [in the road race] but I don't think it will be a problem. Brad wanted to ride as hard as possible anyway for Cav and he was also saying afterwards that he felt he needed a really hard ride like that."
Team GB team-mate David Millar : "Brad against the world when they're all on their own, he can wrap that up. He's got such incredible form and he's in such good spirits. I think we'll get our gold medal there."
FABIAN CANCELLARA, 31, SWITZERLAND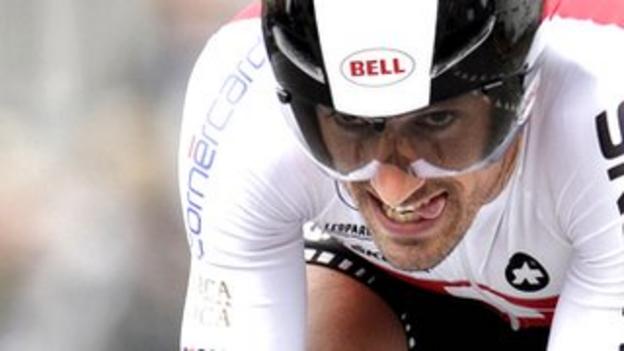 The Swiss is the defending Olympic time trial champion and has four world titles to his name, but he has not had an ideal 2012 campaign.
He broke his collarbone on the Tour of Flanders in April, which ruled him out for two months, ended his Tour de France early to be with his pregnant wife and crashed out of Saturday's road race when he failed to negotiate a corner.
Boardman: "Cancellara crashed in Saturday's Olympic road race but is still set to participate in the time trial, although he has admitted he is still in pain. He is one of Bradley's main rivals but it will be interesting to see how he will go with his injuries."
Cancellara: "The mental aspect is important. I have two legs and I can ride. I have been training many, many hours for the Olympics. We will just have to see how it goes. I have to be positive, otherwise I would have been home already. I am a hard man. I've had a lot of things happen this year."
TONY MARTIN, 27, GERMANY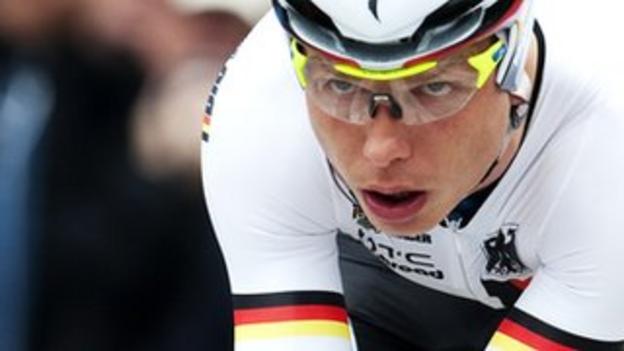 Martin is the current world time trial champion and has been on the podium in the past three World Championships.
Last year he beat Wiggins by more than a minute in Copenhagen and also won time trial stages in top races including the Tour de France, Vuelta a Espana and Paris-Nice. But in this year's Tour he broke his wrist in the first stage and had to pull out soon afterwards.
Boardman: "Martin only rode half of the road race before pulling out to save himself for the time trial but the half he completed he rode hard, so he will be in the same boat as everyone else, fatigue-wise. His Tour de France ended early with a hand injury so it will be interesting to see what his fitness levels are like."
Martin: "It [the wrist] is still torture, but possible. When I'm on the start ramp, I will surely have other things in my head than my hand. The injury won't really hold me back."
CHRIS FROOME, 27, GREAT BRITAIN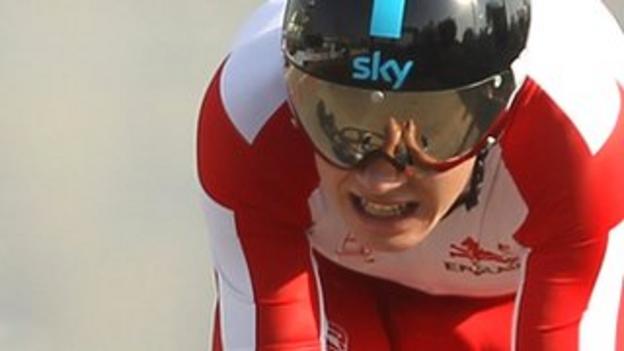 Froome did not have the best start to his European time trial career, crashing into a race marshall just 100m into a race, but since then his standing has grown considerably.
He was fifth in the 2010 Commonwealth Games time trial before finishing second in last year's time trial at the Vuelta a Espana to Martin. In the recent Tour de France he was second in both time trial stages to compatriot Wiggins.
Boardman: "He is a big contender but ideally Chris would have preferred a hilly course and this is certainly not that. He's good at time trials during stages but probably not so at a one-off event."
Froome: "At the moment the tank is empty [after Saturday's road race]. I'll be able to tell [what my chances are] when I wake up on Wednesday morning."
Dave Brailsford: "These guys, Wiggins and Froome, are at a level when producing top level performances day in, day out is what they do."
THE WOMEN'S RACE
Boardman: "Britain's Emma Pooley is in great shape and she will be in the hunt for a medal. Like Froome, she would have preferred a hilly course but she's very compact and has a great aerodynamic shape and she will make the most of that.
"Kristin Armstrong [United States] will be the favourite for gold. She likes this kind of course but I didn't feel she looked as super sharp as she normally does during the road race, so we will wait and see."