Olympics swimming: China's long road to glory
By Zhuang Chen
BBC Chinese
Last updated on .From the section Olympics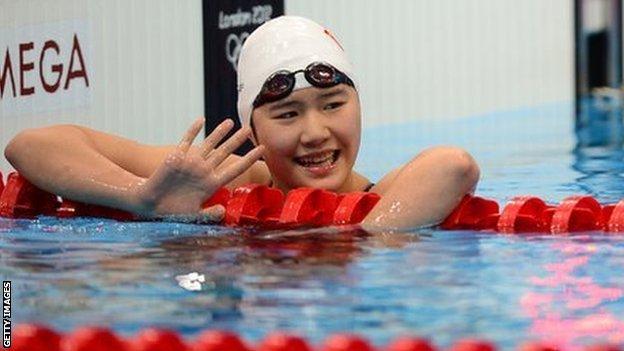 London 2012 has been a good Olympics for China's swimming team, after Sun Yang became the first Chinese man to win a gold and 16-year-old Ye Shiwen rewrote the record books in the 400m individual medley. What's behind China's success?
China's superiority in the pool ended up being the big story on the first day of competition, overshadowing the intense rivalry between Americans Michael Phelps and Ryan Lochte.
China stole the limelight. Sun, 20, beat arch-rival and defending champion Park Tae-hwan of South Korea in the men's 400m freestyle in a new Olympic record time. By doing so, he became the first Chinese man to win an Olympic gold in swimming.
Moments later history was rewritten again, when 16-year-old Ye struck gold in the women's 400m individual medley and broke the world record.
China's new swimming sensation Sun pulled off another feat by winning silver in the men's 200 metre freestyle on Monday, ahead of reigning world champion Ryan Lochte and world record holder Paul Biedermann.
"I never expected this. I hope our team can help me figure out a better performance in the future," Sun said.
Sudden phenomenon?
China's success in swimming may seem like a sudden change of fortune, but is in fact the result of many years of careful planning, a leading Chinese sports writer tells the BBC.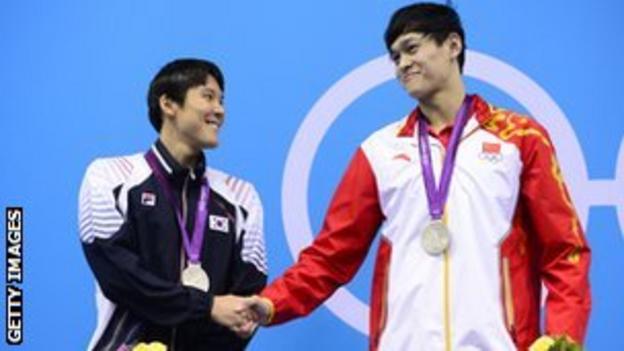 "For the past 20 years or so, China's men's team have made tremendous efforts to win a gold but fell short," said Zhou Xin, a sports writer with China's Xinhua news agency and Fina's China correspondent.
China's women swimmers won first Olympic gold in 1992 when Zhuang Yong triumphed in the 100m freestyle. The journey to the podium for the men has been more arduous.
Until Sun's breakthrough 20 years later, they could only settle for a silver four years ago in Beijing - a phenomena dubbed as "stronger Yin and feebler Yang" by the Chinese.
After winning the gold on Saturday, Sun told the media: "What I did proved what the Chinese men are capable of."
Why is different this time? According to Zhou, it is because of the growth of China's economy.
"In a nutshell, sports is symbolised in economy," he said. "As for Sun, he was born after the 1990s. His parents even feed him with a diet for a champion athlete."
Sun's success is also a reflection of China's opening up as more and more elite swimmers went abroad to train, mainly in the US and Australia.
He trains under Australian coach Denis Cotterell twice a year. Before coming to London, he spent 70 days training down under.
"The best benefit they get by training abroad is the one notch up performance," Zhou said. "Sun and other swimmers are very strong already, what they need is a golden touch."
Trickle down
China recently put more efforts into building the talent reserves. Since the 2008 Beijing Olympics, it launched a national training scheme, aiming at young athletes across China aged between 11 and 16.
Ye and Li Xuanxu, the gold and bronze medallists on Saturday's women's individual medley, come out of the scheme.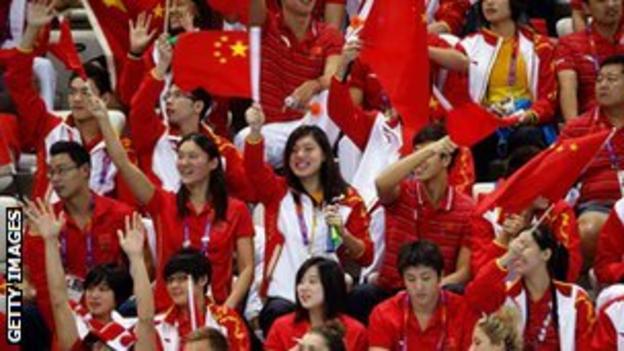 Wu Minchun, an official with Guangdong Sports Administration, says Sun's achievement will have a far-reaching effect on Chinese sport.
"China excels in some minority sports, yet athletics and swimming are deemed as basic sports. Doing well in these two events will generate benefits to the well-being of the whole population," he said.
Both Sun and Ye are from Hangzhou, capital city of central China's Zheiiang province. The city is renowned for its beautiful scenery. Now, it is regarded as a hotbed for world champion swimmers.
At one time, there are thousands of registered young swimmers in Zhejiang. According to Wu, who has paid many visits to the province, swimming is a popular grassroots sport there - a launch pad to elite-level success.
Xin said: "When coaches from Australia and the US come to China, they are amazed at the number of young swimming talents in China. After years of development, China is in a position to tap the talent and produce champions."