Olympics: Greenwich Park revels in eventing makeover

By Sam Sheringham
BBC Sport at Greenwich Park
Last updated on .From the section Olympics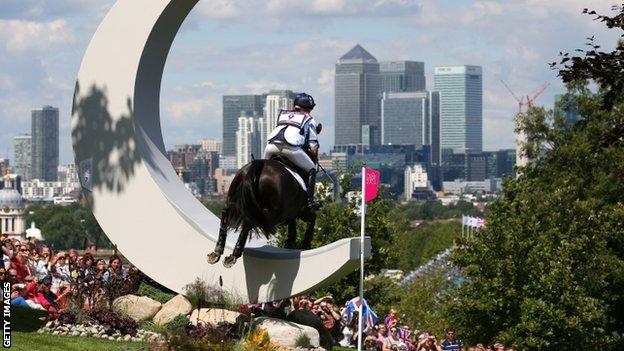 It had the feeling of a music festival for horse-lovers - Glastonbury meets Glorious Goodwood with champagne and seafood bars to counter-balance the burger vans and Portaloos.
Some sprawled themselves across the grass and soaked up the sunshine, others found a free spot to lay out their picnic, while most hustled and bustled to find a decent vantage point.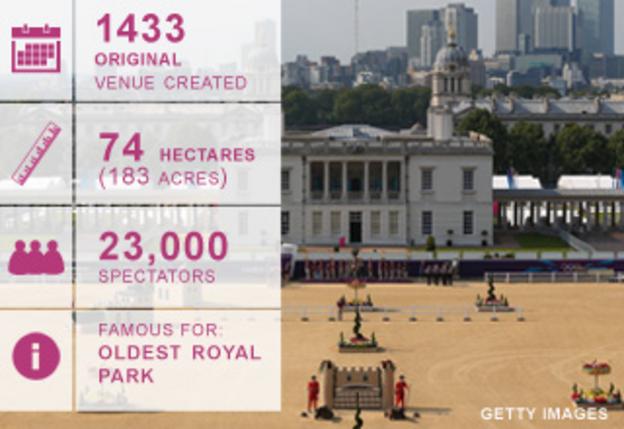 Whatever their preference, just about every one of the 50,000 spectators who flooded into Greenwich Park in south-east London for the Olympic cross-country event on Monday looked as if they were having the time of their lives.
The capital's oldest royal park, dating back to 1433 and featuring buildings of such historic importance as the Old Royal Observatory, the National Maritime Museum and the Queen's House, has been one of the Games' more controversial venues.
Locals campaigned against large sections being closed to the public as they relaid grass, landscaped features and constructed a 23,000-capacity arena for showjumping and dressage, while small businesses complained that their takings would suffer.
But Games organisers were determined to avoid marginalising the sport in the manner of Beijing 2008, when equestrian events took place in Hong Kong, 1,200 miles from the Chinese capital, and pushed ahead with plans to transform the 183-acre expanse in south-east London.
It was hard not to understand their logic as you marvelled at the sight of the world's finest equestrian riders taking on a stunning, undulating circuit offering picture postcard-perfect views of the London skyline.
Designer Sue Benson's 5.6km course featured 28 obstacles, each with a structure and theme related to British culture. There was a diamond-shaped Jubilee Hedge in honour of the Queen's special year, an obstacle called The Sundials outside the Maritime Museum displaying the time in every competing country, and the Tower of London jumps inside the section of the course that passed through the stadium.
The biggest crowds, however, were to be found at the park's highest point, alongside the Royal Observatory, offering professional and amateur photographers the chance to snap competitors hurdling a half-moon shaped fence with a breathtaking backdrop of London's two financial centres.
"It's the most incredible view I've ever seen," said Rachel Carruthers, a 25-year-old from East Dulwich after watching Great Britain's first rider Nicola Wilson sail over the jump.
"I am one of three sisters and we only had one ticket so I was the only one who was able to come today and they are so jealous. I feel really lucky to be here - everyone is so happy and friendly, it's fantastic."
Inside the arena, thousands joined the Duke and Duchess of Cambridge, Prince Harry and the Duchess of Cornwall to support the Queen's granddaughter Zara Phillips, who was making her Olympic debut on High Kingdom after twice missing out because of injuries to her previous mount Toytown.
She was greeted by ear-splitting screams and hysterical flag-waving as she cleared the two tower jumps before punching the air as she completed a brilliant clear round inside the optimum time.
"The crowd was amazing all the way along," said Phillips, who was also celebrating the first anniversary of her wedding to former England rugby captain Mike Tindall.
"All these people being here is just incredible. It really makes you want to do better, to go faster. I am so pleased, It was hard work, but a great feeling."
Phillips's blistering display was by no means the only cause for celebration among home fans, many of whom were draped in Union flags.
Her team-mates Nicola Wilson and Tina Cook also produced clear rounds inside the time limit of 10 minutes, three seconds, to help move the team from the bronze to silver medal position going into the final day's show jumping competition on Tuesday.
"It's just been an amazing day for Great Britain," said Clapham resident Julie Valentine, who got tickets in the first ballot last year for herself, her husband and two daughters Tilly and Georgia.
"I rode when I was little, my husband loves horses and we wanted the girls to be part of the Olympics. Everyone was clapping, screaming and shouting when went Zara went past."
Valentine, 41, was in no doubt that Games organisers had made the right decision in choosing to stage the equestrian event in such an iconic London venue.
"It's so worth it and I think they have done an amazing job transforming it," she said. "I'm sure they will put it back to how it was. After all the doom and gloom, people are really getting behind the Olympics now. It's great."