Olympics cycling: Nicole Cooke coy on future prospects
Last updated on .From the section Olympics9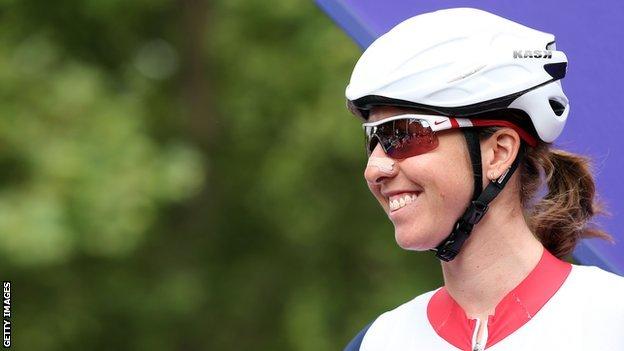 Nicole Cooke has refused to say whether she intends to retire at the end of the London Olympics.
"It's all been about the London Games for me over the last four years and this is a really big milestone in my career," said Welsh cyclist Cooke.
"And yeah, I think when the Olympics are over, I'm going to reflect on it and see what the next step is."
Asked whether this could mean the end of a career that has seen her compete at an elite level for the past decade, she replied: "I'm just enjoying the Olympics at the moment and we'll take it from there."
After her crowning glory at Beijing four years ago, Cooke accepted a supporting role at these Games having seen her once undisputed place as Britain's number one rider taken by Armitstead.
Cooke eventually finished in 31st place after positioning herself in the peloton in the closing stages to counter any possible attacks on the four breakaway riders, who included Armitstead.
The 23-year-old English rider eventually lost out to experienced Dutch rider Marianne Vos in a sprint finish.
Cooke said the team tactics had worked perfectly, with each of the four members playing a part in Armitstead's eventual success.
"We didn't know what was going to happen but we were prepared for any eventuality," explained the former world and Commonwealth champion.
"With about 10km to go I realised that we weren't likely to catch the leaders. The pace in the bunch was starting to slow up - I was moving to the front fairly easily, which meant the pace wasn't very high and the break was likely to be going much faster.
"So I thought 'OK, maybe it's going to be Lizzie's day'."
Cooke said the burning desire to become a double Olympic champion provided the inspiration to prepare for these Games, accepting the sacrifices that accompany the lifestyle of an elite athlete.
She now intends to take a step back from the competitive aspect of the Games and absorb the whole Olympic experience.
"I'm very much into having a breather and enjoying a few days without having to ride the bike and have my day orientated totally around my training session," Cooke told BBC Wales Sport.
"So it's just fantastic to be able to watch some of the other events and just support the other British athletes and enjoy everything the Olympics had to offer.
"It really is incredible and it's also very nice just to take it all in."