Olympics diving: Pressure takes its toll on Daley and Waterfield

By Tom Fordyce
Chief sports writer, at the Olympics Aquatics Centre
Last updated on .From the section Olympics102
From almost before these Games were awarded to London back in July 2005, Tom Daley's destiny has appeared, to some, to be inescapably tied to Olympic glory in his nation's capital.
Aged nine, sitting in his parents' home in Plymouth, he drew a picture of himself preparing to dive from a platform at the Olympics.
A year later, he beat teenagers almost twice his age to win the national junior title. Aged 13, he was crowned ASA senior platform champion, and the wider world began to share his visions.
He was the under-age phenomenon of the Beijing Olympics, triggering hysteria among Chinese girls, and took World 10m platform gold less than a year later. Here, at the Olympic Aquatic Centre in Stratford a year ago, he was the diver chosen to be the first off the freshly completed concrete and into the pool below.
The narrative underneath was never quite so simple. In the 10m synchro, there were bust-ups with former partner Blake Aldridge and a long search for a more fitting pairing. In the individual event, there was brutal competition from across the globe.
Earlier this year, British Diving's punchy performance director Alexei Evangulov even compared Daley to underperforming tennis glamourpuss Anna Kournikova for what he saw as an over-focus on lucrative commercial activities.
"She, too, looked pretty and made a promising start," said Evangulov. "But the media exposure meant she never got to be the best."
Despite all that, despite decidedly mixed results for Daley and his 31-year-old partner Pete Waterfield in World Series events this year, despite the impregnable form of the Chinese pair of Yuan Cao and Yanquan Zhang, the Britons still walked out for their final here on Monday not just to deafening home support but heavy - almost suffocating - expectation.
The stands were full. The full stands were bellowing. And the full stands then had one more join them: Prime Minister David Cameron.
It was meant to be that sort of occasion. For the first half of the competition, it was. Daley and Waterfield first stayed level with the Chinese, then edged past, pulling clear on their third dive.
It was then that all the auguries and neat parallels fell away, with that most painful of sporting game-changers: basic human error.
"They had an electric start," said Leon Taylor, winner of Olympic silver with Waterfield in this event eight years ago and watching on in London as an expert summariser for the BBC.
"Their first two dives were the best they have ever performed them. They were rocking and rolling. Dive number three, I jumped out of my chair, because it's their weakest one and they absolutely nailed it. It was a phenomenal dive. I've never seen them do it that well.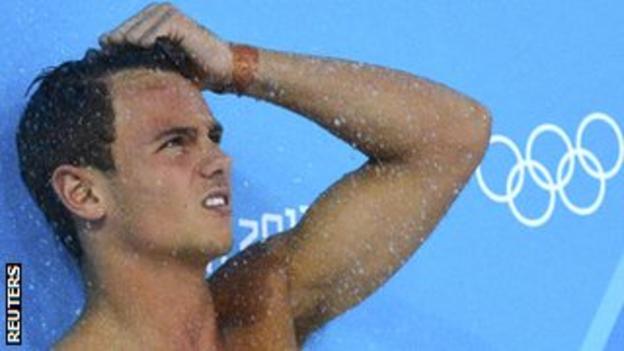 "If this had been a 400m race, they were on the shoulders of the Chinese coming onto the top bend, looking at each other, asking, 'are you ready?' The Chinese said, 'yup, we're ready, how are you?' And we went, 'ah, we're not ready'."
It was on dive number four when the fatal moment came.
The Chinese, just 17 and 18 years old and winners of the World Series events in Beijing and Moscow earlier this year, in addition to the test event here in February, increased the pressure with 93.06 points for a reverse three-and-a-half somersault. Going for the same dive, the Brits cracked.
"That one is actually their best dive," said Taylor. "It's their most consistent one, their bread and butter, the one they pulled out of the bag when they needed it. They can both score 10s on it. That could have been 99 points and I was kind of expecting it.
"But today they didn't make it. They both made errors, Pete going over vertical and Tom going under vertical. They went in at different angles and the synchro was badly affected.
"They scored just 71.28 - 20 points down on where they needed to be. It was the lowest score of the entire contest in the optional rounds."
Not just gold had slipped away. So, too, in that splash of feet did their hopes of any podium finish at all. The arena, wonderfully noisy throughout, daring to dream, was shocked into unhappy silence.
At the test event here in February, Daley and Waterfield had finished down in seventh. Equally, at the British Championships at Ponds Forge in June, the pair had scored 475.77 points. Had they replicated that here, they would have taken silver.
Could that ear-splitting home support, the relentless chants of "GB! GB! GB!" have had an unintended consequence? Does that sort of partisan noise work more favourably for competitors in adrenaline sports rather than in those requiring unbroken concentration?
"It's an extraordinary set of circumstances," said Taylor. "You can't have the Prime Minister come down to your training sessions and you don't get 17,000 people at your local pool. You never know what it will be like.
"But I know they can both deal with expectation. Tom has, from the age of 10, always had to deal with this level of attention. He's almost grown up as a member of the royal family would.
"I wouldn't say they faltered under pressure. They made a mistake and that happens in diving. It was good until the entries into the water. In 1.6 seconds, when you're spinning around and hitting the water at almost 40mph, it's easy for things to go wrong.
"It comes down to consistency. If you make one mistake, you have to come back in four years' time. That was the harsh reality here."
This was also a battle won by China - and Mexico's silver medal pairing of Ivan Garcia Navarro and German Sanchez Sanchez - as much as one lost by the British.
The formidable Chinese, both younger than Daley, were below par by their own exalted standards yet still won by almost 20 points. The Mexicans went for broke with the most difficult dive possible, the inward four-and-a-half somersault, knowing that to play safe would be to finish outside the medals. They were rewarded in style.
Daley was stoic afterwards, Waterfield apologetic. What lent a more sinister edge to the sporting pain was the re-emergence, a few hours later on Twitter, of the sort of dreadful bullying that had blighted Daley's earlier schooldays.
His loyal, loving, inspirational father died in May last year from cancer, aged 40. Daley had wanted to win in London for him. What he hadn't expected was for that personal tragedy to be thrown back at him at the moment of his greatest sporting disappointment.
He and Waterfield at least both have a chance of sporting redemption in the individual 10m platform on Friday week. Taylor believes Monday's defeat could help them towards that second target.
"Yes, it's going to haunt them," said Taylor. "With a big mistake, they came fourth, which means they could have had a silver medal with a dive they know they can perform. It's gutting.
"But they have to use that. They have to show the rest of the world and the millions of people watching and listening that they can do this."