Olympics: When will Great Britain get their first gold medal?
Last updated on .From the section Olympics545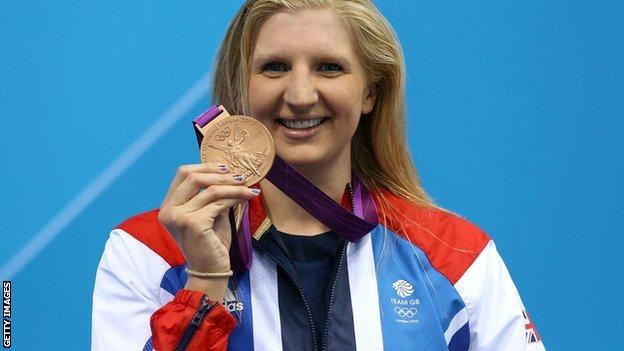 It is Day Four of London 2012 and Great Britain is still waiting for its first gold medallist of the Games.
So far some big hopes have failed to deliver the top prize, but, as BBC Sport's Matt Slater reveals, that could all be about to change in the coming days.
I know a man, an otherwise sensible man, whose mood for days afterwards hinges on the result of the "blues versus reds" dads' football match that is played on the field behind our village school. For him, second is nowhere, and the concept of football being the winner sounds like communism.
There is another player in these games, though, who delights in not knowing what the score is, remembers only the best bits of skill and likes to tell us in the pub afterwards about some Chilean left-back he had seen on TV or a Chinese diver he is looking forward to seeing at the Olympics.
This citizen of the world will not be remotely concerned by Team GB's failure to win a gold medal at London 2012 so far. In fact, I would be surprised if he had even noticed.
I worry about the other bloke, though. I suspect his Olympic enjoyment is closely connected to the medal table, so, for the good of his blood pressure, here are five copper-bottomed tips for GB gold in the coming days.
Helen Glover and Heather Stanning: rowing - women's pair, Wednesday, 11:50 BST
Pipped into second place at the 2011 World Championships, the duo are unbeaten since then, winning all three of 2012's World Cup races.
As if that did not already mark them out as favourites for the event, they set a new Olympic record in qualifying for this final with a storming effort on Saturday.
Glover, 26, is a product of the Sporting Giants talent-spotting scheme and has only been rowing for four years. She and her 27-year-old partner have a superb chance of becoming Britain's first female Olympic rowing champions.
Bradley Wiggins: cycling - men's time trial, Wednesday, 14:15 BST
What more can be said about the 32-year-old Briton? He has dominated road cycling this year and it is his prowess against the watch that has underpinned that dominance.
The last time he lost a time trial of a comparable length to the 27-mile circuit through south-west London was at the World Championships in Copenhagen last year, when Germany's Tony Martin got the better of him.
Since then, however, he has won long time trials at the Paris-Nice, Tour de Romandie, Dauphine and two blistering displays that helped him become the first British rider to win the Tour de France. Martin, on the other hand, injured his wrist in France, and Fabian Cancellara, another potential rival, is a doubt after a crash in Saturday's road race.
Wiggins will be a very short price to add another gold to the three has already won on the track: a remarkable achievement.
Katherine Grainger and Anna Watkins: rowing - double sculls, Friday, 10:30 BST
If Glover and Stanning do not become Britain's first female Olympic rowing champions, then Grainger and Watkins surely will.
Like their team-mates, the scullers smashed an Olympic mark to progress to the final. And their unbeaten run goes back even further, all the way to 2010 when they first teamed up.
A gold medal for Grainger would be a very popular result within the British team and the wider rowing world, as the 36-year-old Scot has been an Olympic runner-up at the last three Games. It is about time she added an Olympic title to her six World Championship triumphs.
Men's team pursuit: track cycling, Friday, 17:59 BST
Day seven of the Games sees the second evening of finals in the velodrome, and we all remember how well those went in 2008, don't we?
Sadly, the British are unlikely to quite touch the heights they reached in Beijing, for the simple reason that the sport's governing body did not like it and has tweaked the programme, and rules, to prevent one nation from controlling the boards so comprehensively.
But Team GB's chances of defending their team pursuit title look very good indeed. The British quartet of Steven Burke, Ed Clancy, Peter Kennaugh and Geraint Thomas threw down a huge marker at the World Championships in Melbourne in April, beating their hosts and rivals Australia in a new world record.
Word from the pre-Games training camp in Newport is that the boys have been flying.
Rebecca Adlington: swimming - 800m, freestyle, Friday, 19:45 BST
Britain's best swimmer for a century, Rebecca Adlington has already done her bit in the pool for Queen and country at these Games with a fine bronze medal in the 400m freestyle on Sunday.
Whisper it quietly, but Team GB have struggled in the Aquatics Centre so far - plenty of finalists but no medals, apart from Adlington's, and not nearly enough personal bests.
The good news is that Adlington is an absolute warrior and clearly the class athlete in this event. The world record she set in winning the 800m in Beijing still stands, and she was an impressive champion over the distance at the 2011 World Championships. You can bank on Becky.
Now having picked these five out, I already feel bad for ignoring the claims of Britain's canoeists, gymnasts, horse riders and swimmers (not to forget the other rowing crews and track cyclists) in action over the next four days. Please, go for gold with gusto.
And while we, the expectant public, wait for that golden moment to arrive, we should remember that we have been here many times before.
We agonised for seven days until Chris Hoy broke our duck in the velodrome in 2004, and it took eight days for rowing legends Steve Redgrave and Matthew Pinsent to strike gold in 1996 - and there would be no more winners for Britain in Atlanta, so let us not forget how precious these moments have been over the years.
We even had to wait over a week for our rowers and sailors to deliver the goods when London last hosted the Games in 1948.
So as Lance-Corporal Jack Jones used to say, "Don't panic!" - not until Friday, anyway.
In the meantime, be like my "dads' football" friend and marvel in the shared humanity of it all. It is good for the soul.