London 2012 international digest - Day Four
Last updated on .From the section Olympics
A round-up of the latest news, views and gossip from the 2012 Olympic Games in London.
Venus adds to her pin collection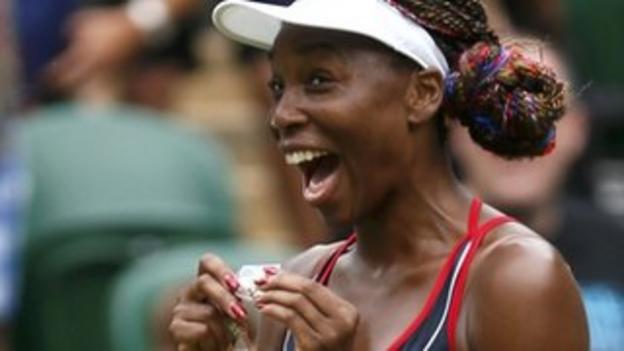 Athletes and spectators are getting into the unofficial Olympic sport of pin trading and even three-time gold medallist Venus Williams is getting in on the act.
No sooner had Williams beaten Canada's Aleksandra Wozniak in the second round of the women's singles at Wimbledon than she was swapping pins with members of the media.
Immediately after celebrating her 6-1 6-3 win, Williams walked into the corner of Centre Court and started bartering with two journalists from Bahamas, who were wearing their nation's brightly coloured tracksuits.
During her on-court interview, Williams was also offered a pin from Bermuda and asked for one for her sister Serena.
Thailand mum gives thanks for medal
The mother of Thailand's first medallist at the London Olympics is so happy that she plans to become a nun.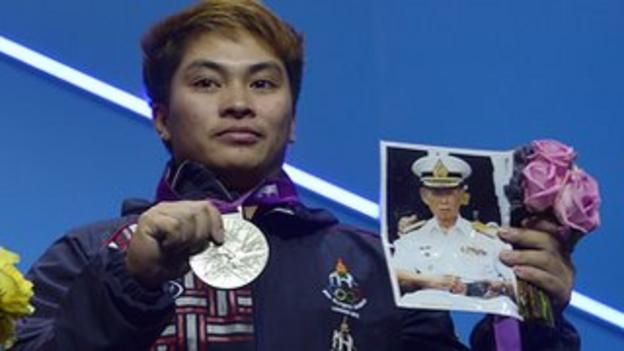 Fireworks lit up the sky in Pimsiri Sirikaew's rural hometown Monday after she won a silver medal in the women's 58kg weightlifting event. Cheering crowds watched the event on giant outdoor television screens.
Her proud mother Amornat Sirikaew told Thai media she had vowed to enter a Buddhist monastery for nine days if Pimsiri won a medal and she will fulfil that pledge on Friday when Buddhist Lent begins.
Amornat also revealed that before her daughter travelled to London, she had a dream of meeting three boys, named Gold, Silver, and Bronze. Two of the boys stood still but the one named Silver ran and embraced her.
Niger rookie keeps on rowing
Niger's rookie rower Hamadou Djibo Issaka received another huge ovation from the crowd at Eton Dorney as he finished last in Tuesday's E semi-final.
The 35-year-old, who has been compared to the Equatorial Guinea swimmer Eric 'The Eel' Moussambani, finished one minute and 10 seconds behind his nearest rival and was still around 300m from the finish line when the race was won by So Sau Wah from Hong Kong.
But the Niger rower's times are getting slower as he progresses through the competition. After finishing his heat in eight minutes and 25 seconds, his time on Tuesday was nine minutes and seven seconds.
Djibo Issaka has one race left at the Olympics - Friday's F final, which will decide the last places in the 33-athlete single scull field.
Spain angry at water polo result
Spain say they will appeal the decision to deny them a late equaliser against Croatia in Tuesday's men's water polo match.
The Spaniards lost 8-7 after officials failed to allow an Ivan Perez Vargas equaliser on the buzzer.
The line judge called it a goal, but match referee Boris Margeta of Slovenia overruled him, giving Croatia the victory.
Spain coach Rafael Aguilar Morillo ran around the pool to appeal to Margeta, and pointed up at the big screen in the venue that was showing replays of the shot as he pleaded for the referee to change his decision.