Olympics 2012: Brazilians make Beijing to London challenge
By Camilla Costa
BBC Brasil, London
Last updated on .From the section Olympics
A group of Brazilian friends who travelled 14,000 miles (22,500km) from China to London ahead of the Olympic Games made it just in time for the opening ceremony, despite a string of mishaps.
Along the way they had to abandon their car and use any alternative modes of transport including buses, trains and even a donkey-pulled cart.
Richard Amante, Edgar and Paul Scherer, Lucas Jordao and Bruno Azevedo arrived at the Olympic Park on Friday, marking the end of their 57-day journey during which they had carried a plastic replica of an Olympic torch.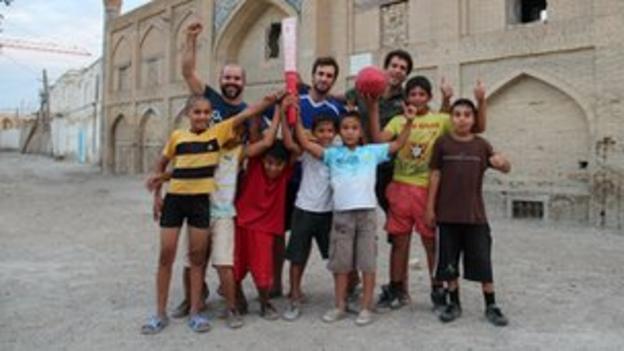 The final obstacle they had to overcome was London's infamous traffic, with the Brazilians spending the last night of the trip close to Gatwick Airport, south of the capital.
"Actually, we could have arrived a day earlier, but decided to sleep here to arrive on the scheduled day," says Amante, a writer.
"It's a relief to arrive on time, especially with so many difficulties."
Amante, along with Edgar, 30, and Paul Scherer, 28, had originally left Beijing - host of the 2008 Olympics - to begin a journey to London via 25 countries in their own car.
But after nine days on the road and about 3,000 miles (5,000km) travelled, they were forced to leave the Santana 2005 on China's border with Kazakhstan.
Taxis and buses
The trio had to continue on any other modes of transport and struggled with taxis, buses and car-pools between Asia and Eastern Europe.
The plan had been to meet the other two Brazilians in Turkey and then travel in another car, but Jordao and Azevedo could not meet them on schedule, causing another unexpected twist to their journey.
"Because they were late, we decided to go to Croatia and meet with them. We went through three countries we had not planned to go through: Bosnia, Croatia and Montenegro," says Amante.
"It was something that was very worthwhile, because the beaches there are beautiful."
But the change of plan meant the team could have missed the London 2012 opening ceremony.
"The problem is that to continue the trip, we had to make a detour of 500km (300 miles) to avoid Serbia, because it was the only country we could not enter. By the time we met them, we were three days late," says Amante.
In order to get to London on time they had to travel much more quickly through their final leg of Europe.
"We left a lot to plan at the last minute because we had no way of knowing whether we would get in certain places each day or not. Never reserve a hotel, for example."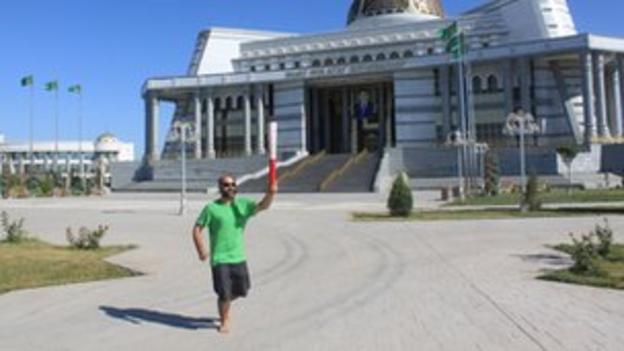 Amante, who lives in China along with the Scherer brothers, said the three had to "mime" their way across several countries where it was difficult to find people who spoke English.
In Iran's capital Tehran, Edgar Scherer was detained for about half an hour after taking a photo on the road, while they waited for a bus to the west of the country.
"Edgar was arrested because he was taking road pictures and did not know it was forbidden. Then a guard came and took him to a room," recalls the writer.
"He tried to explain that he needed to take the bus, but no one understood. The camera passed through the hands of nine people, until it reached an official who spoke some English and explained that he had to delete the photos."
'Mission accomplished'
Because of the confusion, the three friends then ended up on a bus going north rather than south. They were told about the error just in time.
"We almost ended up in a place 600 miles (1,000km) from where we wanted to go," he says.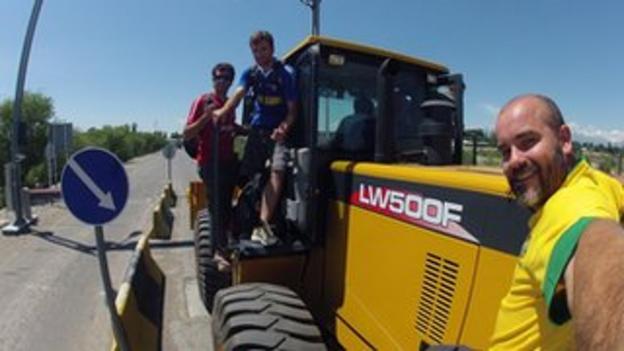 The idea of ​​their expedition to the 2012 Games had come two years earlier, when Edgar Scherer proposed a road trip to London. They wanted to repeat the experience they had had together while watching the Beijing Olympics in 2008.
However, despite being able to say "mission accomplished", their arrival in London did not mean the Brazilians would be able to attend any of the Olympic sporting events.
"We will try to buy tickets or see if someone has any donations," says Amante.
The five friends will go to Manchester to watch the Brazilian men's football team battle New Zealand before they leave the UK.
"It was more for the trip. We did not think we would see much of the Olympics. One of us got upset because [tennis player Rafael] Nadal will not participate; he wanted to see Nadal."