GB Olympic women's volleyball team made sacrifices - Wicks
Last updated on .From the section Olympics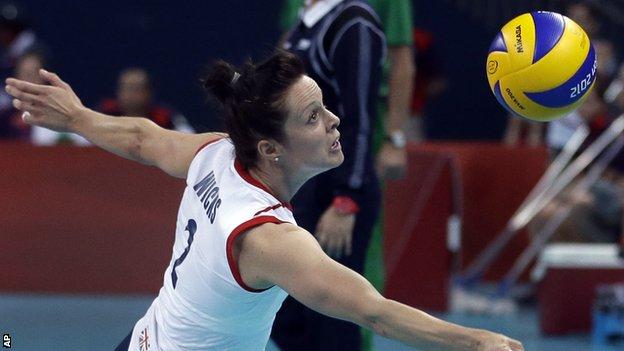 Great Britain's women's volleyball team have made big sacrifices to compete at the London Olympics, according to setter Lucy Wicks's mother.
Cary Wicks told BBC Radio 5 live: "They've all made sacrifices.
"They've sacrificed careers, they've sacrificed mortgages and some of them have sacrificed partners to get to where the team is now."
Wicks says seeing her daughter's side competing at London 2012, and securing a maiden victory against an Algerian side ranked 53 places above them, has made it all worthwhile.
"It was an amazing night, I felt like I played every point. The team made history just by being in the Olympics so to have a win was the icing on the cake. It was absolutely wonderful," she said.
In 2010 funding was cut and the squad have been forced to raise money themselves, with the help of Cary Wicks.
"I've run an 'adopt an Olympian' scheme at schools across the country," she explained.
"We've got about 70 schools following the team's progress and I would imagine many pupils and teachers were watching them last night as they made history."
As well as fundraising Cary Wicks, and her neighbours, gave the British squad free lodging for their training camp following the funding cuts.
The next summer they had to stay in a fire station, and every player has made significant personal and financial sacrifices to appear in London this summer.
Lucy Wicks, who is from Poole in Dorset, has let her licence as a physiotherapist lapse in order to commit to her training schedule.
Team GB will have an opportunity to continue their good form when they face world champions Italy on Wednesday.