London 2012 Weightlifting: Gareth Evans eyes 2014 Commonwealth crown
Last updated on .From the section Olympics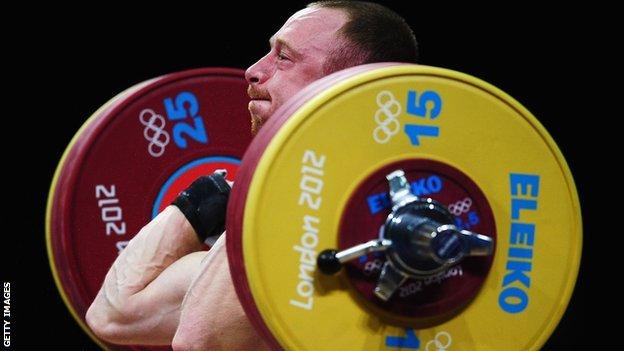 Welsh weightlifter Gareth Evans is targeting 2014 Commonwealth Games gold following his London 2012 efforts.
He missed out on beating Stewart Cruikshank's 10-year British record of 132.5kg.
But said: "Stewart - it's coming, it's coming - I'm going to do it."
Evans says thoughts of the 2016 Rio de Janeiro Olympics will not come into focus until after the 2014 Commonwealth Games.
In the meantime he aims to overhaul India's Ravi Kumar Katulu in Glasgow.
Katulu posts 136kg in the snatch and 167kg in the clean and jerk to finish two place ahead of Evans in Group B.
The Welshman said: "The Indian lad in this class is Commonwealth champion at the moment.
"He's only done a a 136kg snatch today, so I'm only 6 kilos behind him. He's opened on 167. I was hoping to push about 160-165 if my hip had been perfect.
"I'm happy with 158kg, it's a PB [personal best]. He's been at 69 kilos for a quite while, I've been at it for 10 months so watch this space, give me two years.
"I'm not even a full 69kg - I didn't have to worry about losing weight for this competition.
"I've had breakfast before I've weighed in, these lads haven't, so I've got three-four kilos of bodyweight to put on as muscle.
"So I'm hoping he'll [Katulu] be standing at number two in 2014."
Evans made major personal sacrifices and relied on financial backing from his parents to make the London Games.
He moved from Holyhead to Leeds to train, giving up his painting and decorating job in the process and leaving four-year-old daughter Lexie at home.
"I was only getting home for the odd weekend, not having much money and it was hard for me to get back.
"I'm 26 years old, I've had my own mortgage and I've worked full time and I've been having to have my mum send money up to me and that's hard because I've supported myself for so many years.
"I get an athlete award which is only £400 a month but most of that goes back to pay the bills at the house that my little girl lives in.
"So what I get from that for myself out of that isn't much at all. Sometimes it's £80 a month."
Evans was proud to have made his mark and pleased coach Tamas Feher and to have performed in front of his daughter.
He added: "As much as I've done this for myself, I've done it for my mum and dad, my little girl, all my friends and family and everyone involved in weightlifting and British sport.
"The people in British weightlifting have been absolutely fantastic... my coach from home, Ray, he's probably my biggest sporting influence...he's not just my coach."