Olympics hockey: South Africa's video referee complaint
Last updated on .From the section Olympics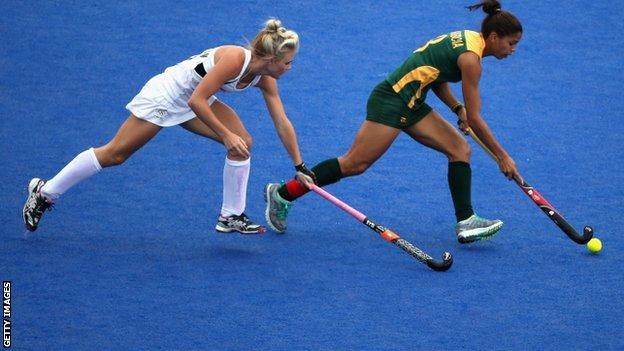 South Africa coach Giles Bonnet is set to make a formal complaint about the standard of video refereeing in his team's 4-1 defeat by New Zealand.
Teams are allowed a specific question when they ask for a video referral of a goal and not for a general review.
South Africa claim Russian umpire Elena Eskina misunderstood the complaint about New Zealand's third goal.
"It is appalling. It is a farce that they scored a goal that is not a goal," said Bonnet.
"I'll ask the technical delegate and we will make a complaint but in terms of the result, it will mean nothing."
With a 2-0 lead, New Zealand captain Kayla Sharland found the net with a shot from the edge of the area that flew past two players.
South Africa captain Marsha Marescia claims United States umpire Amy Hassick told her the shot was made outside the "D", but had hit New Zealand's Cathryn Finlayson on the way in.
Marescia asked for a referral but said that Eskina misunderstood the nature of the query and only looked at the line incident before ruling that the goal should stand.
After South Africa pulled the score back to 3-1, Sharland found the net from the edge of the area once again but Marescia was unable to ask for another review as they had failed with an earlier referral at a penalty corner and had therefore run out of appeals.
"The language barrier can be a challenge because the question is interpreted in the wrong way," said Marescia.
"The question was interpreted incorrectly between the umpire on the field and the umpire in the video box."
International Hockey Federation communications manager Jenny Wiedeke insisted the right decisions had been made.
She said: "I think that is the source of confusion here from South Africa in terms of they weren't sure what they were asking was being reviewed as they looked on the screen.
"I am confident they got the right answer to the question they were asking."
The defeat leaves South Africa bottom of Group B with no points from their two matches, while leaders New Zealand moved on to six points from their two games.