Chris Bartley hopeful of rowing gold as crew reach final
Last updated on .From the section Olympics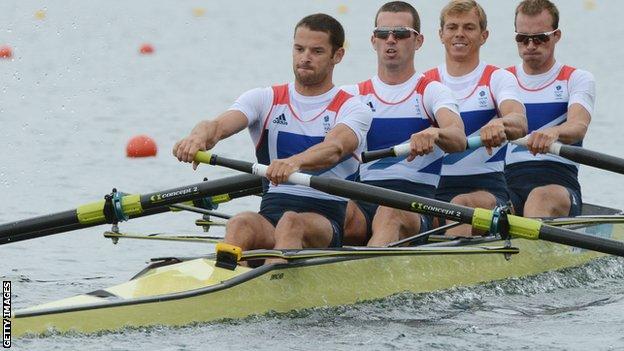 Wrexham rower Chris Bartley is confident his lightweight coxless four crew can achieve gold on Thursday after an impressive win on Tuesday.
"If we do the best job we can we'll come away with a win," Bartley said.
He added: "No-one's going to hand it to us, we're going to have to each row 10 out of 10 to get the result we want."
Bartley, Richard and Peter Chambers and Rob Williams had put on an emphatic performance in the heats when they overhauled world champions Australia to win.
They continued that form in the semi-finals, pacing themselves through the first 1500m before upping the stroke rate and coming through to secure their place in the final.
Bartley said the home support was making a real difference to their performance at Eton Dorney.
"I've had so many messages of support and the crowds have been brilliant...it really does make a difference, especially in that last 500 [metres] - everyone wants you to win it, everyone's cheering for you.
"[It is] what the whole year's been about, the whole four years, every training session trying to get it right on the day, and the day's in a couple of days' time so hopefully we can do it," Bartley concluded.