Olympic sailing: Paul Goodison admits injury could end his Games

By Rob Hodgetts
BBC Sport in Weymouth
Last updated on .From the section Olympics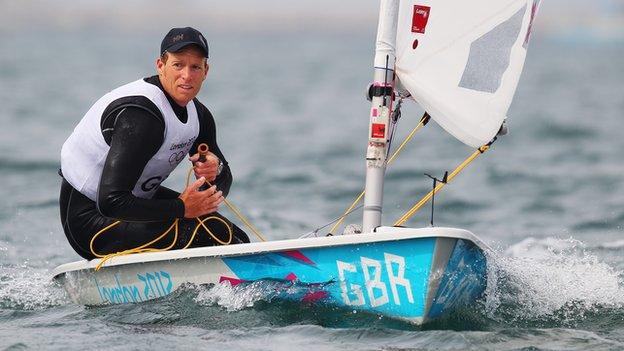 Great Britain's defending Laser class champion Paul Goodison could pull out of London 2012 with a back injury.
Goodison, 34, was injured before the second race on Monday and experienced intense pain again on the waters of Weymouth on Tuesday.
"I could hardly bend down last night," said a tearful Goodison.
"The physios did an amazing job to get me back out and I was kind of hoping it would be a quick fix but unfortunately not. The body is in a lot of pain."
When asked whether he was worried his regatta was in danger, he said: "Yeah, for sure. I'm more worried my body is in a lot of trouble."
The Rotherham-born Weymouth resident struggled on day one with a 10th and a 23rd and followed that up with a 16th and a second on Tuesday to lie 12th, 23 points behind hot favourite Tom Slingsby of Australia.
Goodison will have more intense physio in a bid to be fit for Wednesday and is eyeing Thursday's rest day to help his recovery.
But strong winds are forecast, and despite the encouraging result in race four, he is concerned he has left himself too much to do.
"The pain was quite a lot but I had a couple of tablets and just got out of the pack around the first mark and luckily the breeze dropped off which made it better for me in the last laps," he said.
"You can push through the pain to a certain degree and fire yourself forward but when the pain is affecting your decision making it's very difficult.
"Until that is fixed you can't really fire on all cylinders and unless you deliver your very best it's going to be hard to win. I've just got to keep ticking away and give myself a chance if I get better later on."
Five-time world champion Slingsby, who had a heated argument with Goodison in a pub after a recent event in Weymouth, said: "We've had our differences but I wouldn't want him to be in any pain. I hope he recovers and can sail the rest of the regatta."