Olympics athletics: Eilish McColgan fit for 3,000m after car accident
Last updated on .From the section Olympics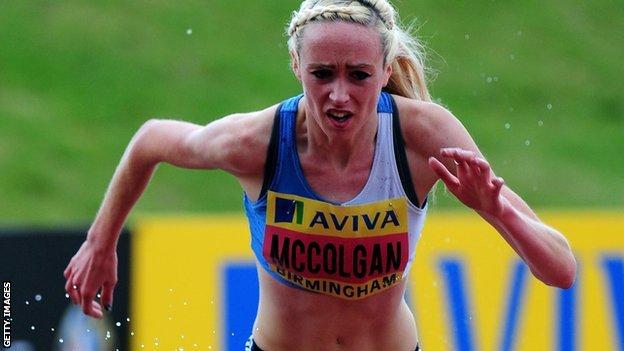 Great Britain's Eilish McColgan will compete in the 3,000m steeplechase at the Olympics despite being hit by a car on her final training run.
McColgan was training in Portugal on Wednesday when she was struck by a glancing blow on her left hand side, causing her to fall onto the bonnet.
The 21-year-old Scot was not badly hurt and ran two miles to the team hotel.
McColgan, daughter of Olympic silver medallist Liz McColgan, was cleared to fly to London with her team-mates.
Writing on Twitter about the incident, she said: "Just got hit by a car on my run! Luckily didn't get hurt as she clipped the bottom of my legs and I landed on the bonnet - stupid lady driver!"
Liz McColgan, who won a silver medal in the 10,000m at the Seoul Games in 1988, wrote on Twitter: "Eilish got hit by car this morning in her run but thankfully she is ok. Just stiff back prob be bit worse tomo. Lucky lady."
The first round of the women's 3,000m steeplechase takes place on Saturday.