Olympic swimming: Roberto Pavoni learns heats lesson
Last updated on .From the section Olympics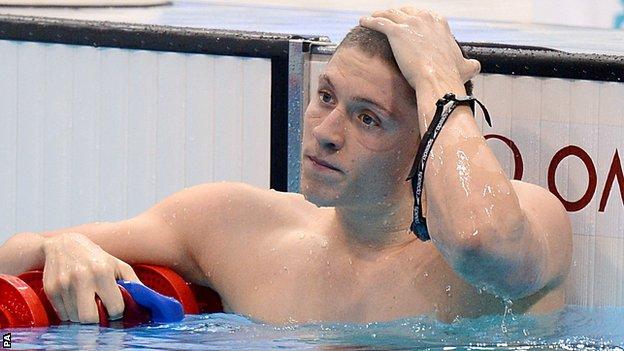 Essex swimmer Roberto Pavoni believes lessons learned at London 2012 will stand him in good stead for the Rio de Janeiro Olympics in four years' time.
Pavoni, 21, competed for Team GB in the 400m medley and 200m butterfly heats.
"To try to step up in the heats and swim personal best times is something I need to be able to do to progress to semi-finals and finals at major championships," he told BBC Essex.
"There's no room for swimming off your best, you can't sneak in like that."
Pavoni said representing Great Britain in London was a "bonus" at this stage of his swimming career.
He clocked four minutes 15.56 seconds for fourth place in his medley heat, but 1:57.55 was only good enough for seventh in the butterfly.
"Something I definitely need to work on is swimming as fast as I can in the mornings and trying to get as close to my personal bests as I can, which is always difficult because obviously your best times come from finals, which are in the evenings.
"Myself and my coach and I are going to sit down and chat about how to go about doing that for the next few years," he said.
"When you need to pull out a good one and get a personal best, you've got to be able to do it.
"I wasn't too disappointed with the times, they weren't far off my bests, but I needed to be right there - maybe doing my personal bests - if I wanted a chance of coming back and performing in the evenings."
Despite his events being over, Pavoni plans to stay in London throughout the Games in order to soak up the atmosphere and experience and indulge in some star-spotting.
"Being in the village with athletes from all the different sports and big names like (Novak) Djokovic, the Williams sisters, Chris Hoy, people you look up to your whole life, doing the same things as you, that's definitely one of the perks.
"Swimming being in the first week, we obviously get a bit more time to enjoy it than the other sports do," he added.