Olympics 2012: Team GB athletes at London Games Day Five
Last updated on .From the section Olympics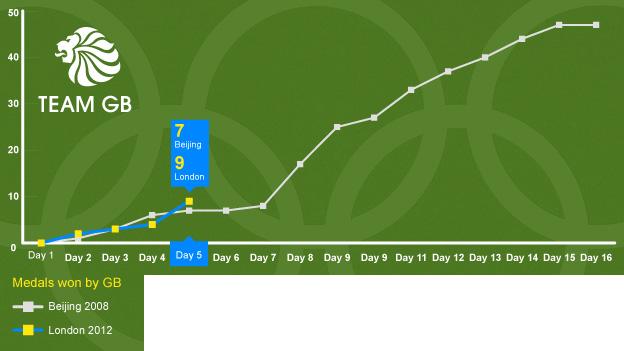 A sport-by-sport round-up of how every Team GB athlete performs on Day Five of the 2012 Olympic Games in London.
Britain finished the day on a total of nine medals, compared with seven at this stage at Beijing in 2008, and are 11th in the medal table.
ARCHERY
Amy Oliver loses in the round of 32 of the women's individual tournament as Ika Yuliana Rochmawati of Indonesia wins 7-1.
Alan Wills goes out in the round of 64 in the men's individual tournament, losing 6-5 to Taylor Worth of Australia.
BASKETBALL
The women's side suffer a third straight defeat, losing 67-61 to Russia, and are bottom of their group.
BEACH VOLLEYBALL
The men's pairing of John Garcia-Thompson and Steve Grotowski are defeated 2-0 by their counterparts from Norway.
BOXING
Luke Campbell beats Jahyn Vittorio Parrinello of Italy 11-9 to advance into the quarter-final of the men's bantamweight (56kg) event.
Anthony Joshuadefeats Erislandy Savon of Cuba 17-16 in the men's super heavyweight (+91kg) event.
CANOEING
Richard Hounslow goes out of the men's single kayak slalom at the semi-final stage, with a score of 104.30.
CYCLING
Bradley Wiggins wins GOLD in the men's time trial, while Chris Froome wins BRONZE. They set times of 50:39.54 and 51:47.87 respectively.
Emma Pooley finishes sixth in the women's trial, while Lizzie Armitstead finishes in 10th position. They set times of 38:37.70 and 39:26.24 respectively.
DIVING
Chris Mears and Nick Robinson-Baker finish fifth in the final of the men's 3m springboard, setting a score of 432.60.
FENCING
Louise Bond-Williams fails to reach the last 16 in the women's individual sabre, losing 15-8 to Vassiliki Vougiouka of Greece. Sophie Williams also exits at the same stage, losing 15-8 to Italy's Irene Vecchi.
FOOTBALL
The men's side advance into the quarter-finals of the tournament after Danny Sturridge's solitary goal gives them a 1-0 win over Uruguay.
GYMNASTICS
In the men's all-round individual final, Kristian Thomas and Daniel Purvis secure Great Britain's best ever finish in the event. Thomas finishes seventh, while Purvis ends in 12th.
HANDBALL
The women's side suffer their third successive defeat after being beaten 30-17 by Brazil.
HOCKEY
The men's side earn a 2-2 draw against South Africa. Ashley Jackson scores two goals including a late equaliser with three minutes remaining.
JUDO
Sally Conway's campaign in the women's -70kg category ends with defeat to Edith Bosch of the Netherlands in the last 16.
Winston Gordon is knocked out in the last 16 of the men's -90kg by Russian Kirill Denisov.
ROWING
Helen Glover and Heather Stanning win GOLD in the women's pair with a time of 7:27.13.
The British men's eight of Richard Egington, James Foad, Matthew Langridge, Alex Partridge, Tom Ransley, Mohamed Sbihi, Greg Searle, Constantine Louloudis and cox Phelan Hill take BRONZE in their final with a time of 5:51.18.
The women's quadruple sculls team of Debbie Flood, Frances Houghton, Beth Rodford and Melanie Wilson finish last in their final with a time of 6:51.54.
The men's quadruple sculls team of Charles Cousins, Stephen Rowbotham, Tom Solesbury and Matthew Wells are through to the final after finishing third in their semi-final with a time of 6:05.71.
Men's pair George Nash and Will Satch reach Friday's final, winning their semi-final with a time of 6:56.46.
SAILING
Paul Goodison places 4th and 9th in his two races in the laser, leaving him in sixth position at the halfway stage of the series.
Lucy Macgregor, Kate Macgregor and Annie Lush lose to New Zealand in today's match race in the Elliott 6m leaving them joint fifth in the standings.
Steve Robinson and Ben Rhodes finish 4th and 2nd in today's races in the 49er, putting them in fifth in a tight field.
Bryony Shaw finishes 4th and 9th in her two races in the Women's RS-X, leaving her sitting in sixth.
Alison Young places 2nd in two races in the Laser Radial and now sits fourth after four races.
Nick Dempsey finishes 5th and 1st in the Men's RS-X to leave him in third place with four of ten races completed.
SWIMMING
Michael Jamieson wins SILVER in the men's 200m breaststroke final with a time of 2:07.43, while Andrew Willis finishes in eighth with a time of 2:09.44.
Caitlin McClatchey, Rebecca Turner, Hannah Miley and Joanne Jackson finish fifth in the women's 4x200m freestyle relay with a time of 7:52.37.
James Goddard and Joe Roebuck are through to Wednesday night's men's 200m individual medley semi-finals with heat times of 1:58.56 and 2:00.04 respectively.
Fran Halsall finishes fourth in the women's 100m freestyle semi-final with a time of 53.77 to reach the final. Amy Smith misses out after clocking 54.28.
Marco Loughran and Chris Walker-Hebborn finish seventh and eighth in their heat of the men's 200m backstroke with times of 1.58.72 and 1:59.00 respectively.
Stacy Tadd finishes sixth in her 200m breaststroke heat with a time of 2:27.18.
Jemma Lowe finishes 6th in the women's 200m butterfly final with a time of 2:06.80.
James Goddard finishes third in the 200m individual medley semi-final behind Ryan Lochte and Michael Phelps with a time of 1:58.49 to reach the final.
Joe Roebuck finishes seventh in the other 200m individual medley semi-final with a time of 1:59.57 and misses out on the final.
TENNIS
Andy Murray fights back from losing the first set to beat Marcos Baghdatis of Cyprus 4-6 6-1 6-4 and reach the men's singles quarter-finals.
The mixed doubles first round between Andy Murray and Laura Robson and Czech pair Lucie Hradecka and Radek Stepanek has been cancelled for the day. It will now take place on Thursday.
VOLLEYBALL
The women's side lose 3-0 to Italy in their third group game.
WATER POLO
The women's side are thrashed 16-3 by Australia in their second game and are bottom of Group B.
WEIGHTLIFTING
Jack Oliver finishes fourth in Group B of the men's 77kg, lifting 140kg in the snatch and 170kg in the clean and jerk.
Natasha Perdue finishes 12th in the women's 69kg final, lifting 92kg in the snatch and 113kg in the clean and jerk.