The financial incentives for Central Asian Olympians
By Feruza Rakhmonova
BBC Uzbek
Last updated on .From the section Olympics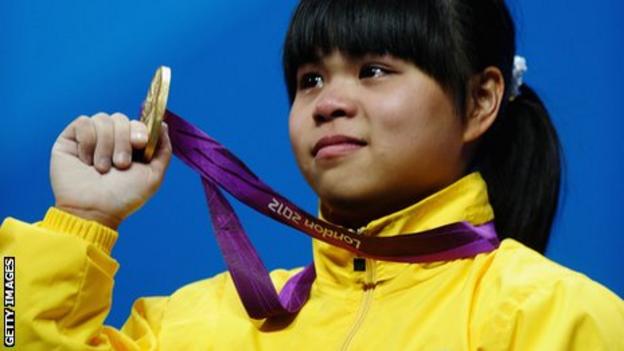 Central Asian countries are unlikely to feature at the top of the Olympic medals table, but it won't be for lack of financial incentives.
When Kazakhstan's Zulfiya Chinshanlo took Olympic gold in the women's 53kg weight lifting event on the second day of the games, she was only half joking when she mentioned the cash bonus that may be in store for her.
The 19-year-old had just been congratulated by the country's President Nursultan Nazarbayev. "I won't tell you how much money he will give me," she said. "I am afraid I will be robbed."
Joking aside, cash prizes for Central Asia's medal winning athletes are a serious matter.
In fact, the bonus paid by Kazakh Olympic officials for a gold medal is no secret. It's $250,000 (£159,000) - 10 times the amount a US athlete would get if he or she captures top spot.
Riches and recognition
Such generosity reflects the importance attached by some former Soviet republics to achieving sporting glory under their own flags, some 20 years after their countries broke away from the crumbling USSR.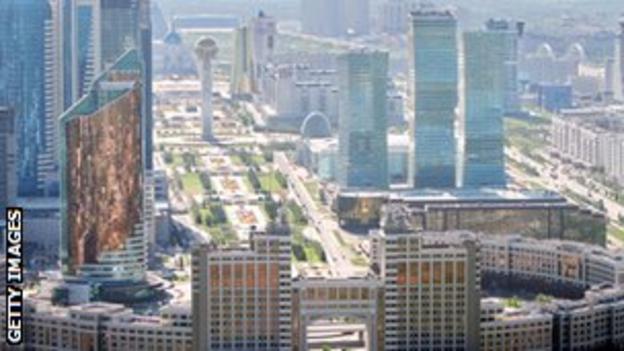 Kazakhstan in particular craves international recognition. Its new capital Astana boasts a wealth of extravagant architecture, including the giant Pyramid of Peace, and the huge shopping and entertainment complex in the shape of a tent, both of which have been designed by British architects Foster and Partners.
With plenty of oil, gas and precious metal reserves, the country can afford to bankroll its international PR efforts.
But even poorer neighbours have made big promises to their Olympic athletes.
Kyrgyzstan - with a GDP of significantly less than a 10th of its mighty neighbour - says it will reward a gold medal with $200,000 (£128,000). Then again, at Beijing none of its athletes achieved that feat.
But Murat Saralinov, the head of the Kyrgyz National Olympic Committee, has said the bonus could make a difference.
"Around three billion people watch the Olympic Games in London. So it's a big event," Saralinov said when the incentives were announced. "We would like to support our athletes and I believe it will give them a huge stimulus. We think to win two or three medals would be very good for us."
Uzbekistan, also endowed with oil and gas reserves, will pay $150,000 (£96,000) for a gold medal, while Tajikistan, the region's poorest country, has been more modest with a $63,000 (£40,000) dollar gold bonus.
Private encouragement
But there's a big difference in what the prize money will get you in the different countries.
In Kyrgyzstan, the gold medal bonus would get you a very comfortable, if not luxurious house. In metropolitan Kazakhstan or Uzbekistan, the cash would just about get you a modest flat.
Whatever the actual value, most Central Asian countries outstrip the incentives offered by the former Soviet Union's lead nation Russia.
And in some former republics, patriotic individuals have raised the stakes even higher. One leading businessmen in Armenia has offered to top up the Olympic federations cash offer by another $700,000 (£448,000).
During Soviet times, incentives were both ideological as well as material. Successful athletes were awarded prestigious titles such as the 'Master of Sports' ranks, complete with badge. But they could also expect privileges such as better salaries or a flat.
The Soviet sporting structure may have passed into history, but the incentive system has adapted to more capitalist times.