Swimmer Marco Loughran sets sights on Rio 2016
Last updated on .From the section Olympics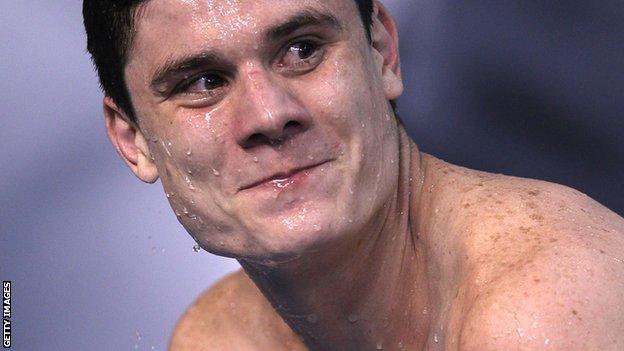 Swimmer Marco Loughran aims to be in the top three of his event at the Olympic Games in Rio de Janeiro in four years' time.
The 23-year-old was making his Olympic debut and has set his sights on 2016.
"You've got the World Champs a year before that. I'd like to be top three," he said.
"I've got three years to build to that. I've done so much in the last six months so three years is a great period of training."
American-born Loughran, who qualifies to represent Wales through his Welsh father, says competing in front of an enthusiastic crowd at the Aquatics Centre had its disadvantages as well as obvious home advantage.
"It's almost like a positive and a negative," Loughran said the University of Florida student, who swims for Guildford City.
"Positively you've got the home crowd behind you but at the same time you don't want to ruin your race time.
"You don't want really want to allow the crowd to push you beyond your limits so you pretty much start at the end, which I think has happened to a lot of people this week.
"You've got to stick to your own race plan and then let it go from there.
"Walking in it went kind of silent then I think they realised there was two British swimmers and the crowd just went ballistic. I was really nervous. I was shaking at the blocks."
Despite missing out on a semi-final spot, Loughran was happy with his performance and grateful for his family's support.
"I think it's my quickest morning swim. I'm really happy," he said.
"My mum, dad and sister are here. I came up and spoke with them before the race. My dad burst into tears and it was weird seeing a 6ft 5 well built man crying.
"It's been great support. My family have been nothing but a god send. I'm really glad I got them to be here with me today."