Phillips Idowu's Olympics build-up criticised by Van Commenee

By Tom Fordyce
Chief sports writer, BBC Sport
Last updated on .From the section Olympics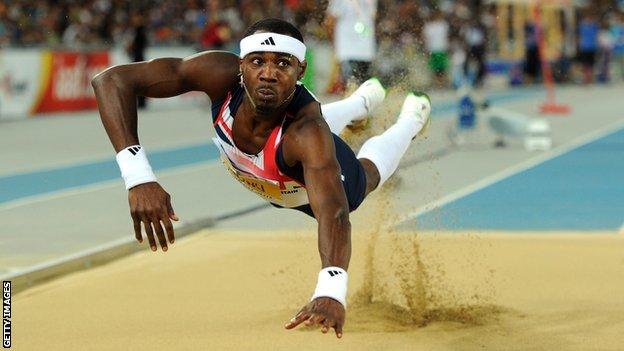 Phillips Idowu's chances of winning an Olympic medal have been compromised by his Games preparation, says GB's athletics chief.
Charles Van Commenee said triple jumper Idowu has not seen or spoken to his coach Aston Moore for a fortnight.
However, on Thursday the BOA chef de mission Andy Hunt said that an update could be expected soon on when Phillips was going into the "Games environment".
"I do know where Phillips Idowu is. He's improving his fitness," Hunt said.
Van Commenee had said on Wednesday that he found it "bizarre" that GB were having "to deal with the situation" as it was presented to them.
He added: "First, he has to show up - and we don't know when he will. When he shows up, where he sleeps, we have no idea."
Idowu, world champion in 2009, is one of Britain's big hopes for athletics gold, but he has not competed in two months and confusion has surrounded his fitness as the days have ticked away before London.
The participation of the 2008 silver medallist was called into doubt last week when he failed to attend a pre-Games training camp in Portugal.
This led to the BOA requesting medical records for a reported nerve problem in the 33-year-old's hip and back, a decision which left Idowu "incredibly disappointed and surprised", his agent said.
Hunt has already said he expects Idowu to be fit for London 2012, but Van Commenee continued: "It's not good, obviously, because I know how important coaching is.
"That's the reason we go on camp, so athletes have 24/7 support staff.
"Phillips decided not to join and in my eyes that compromises his preparation.
"We will support him when that is needed, as we always have. UK Athletics has supported Phillips Idowu for about 12 years. Financially, a big part for that 12 years in terms of providing training and accommodation, camps, medical support, psychological support, biomechanical support. We have paid the salary of his coach - our coach.
"I'm perplexed really that, in the last few weeks before the Games, he turns his back on us."
Van Commenee and Idowu first fell out last summer when the latter pulled out of the European Team Championships. After a subsequent public row about Idowu's use of Twitter, the two have not spoken since.
The Dutchman said: "Phillips last saw Aston face to face about two weeks ago. That was the last session. Since then [he has only had] a few text messages."
When asked whether there was any indication at that final session that Idowu intended to go it alone, Van Commenee answered: "No.
"You are asking me to look into his head. That's a challenge. I find it difficult to look into people's heads anyway - and certainly Phillips's head."
That Moore and Idowu have not seen each other in two weeks is in part a function of the fact that Moore, as a UKA coach, was required to be at the team's training camp. But there are rumours that the two have not worked together for much longer.
Idowu is believed to be getting training and medical support at a track in east London but has kept a minimal public profile since pulling out of the London Diamond League meet last month, moments before he was due to compete against world champion Christian Taylor.
Van Commenee, famous for his uncompromising approach, added: "The sport is in a wonderful place. The team has not been as strong as this for a long time. And what do we do? We talk about the invisible man."