Will the women's badminton doubles be affected by the disqualification of four teams?
Last updated on .From the section Olympics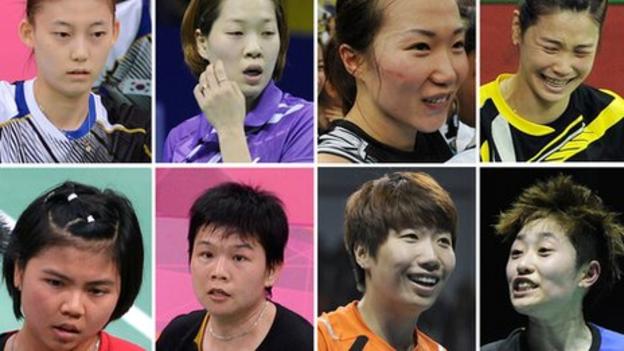 Eight badminton players have been disqualified from the women's doubles competition after being accused of "not using one's best efforts to win".
The insinuation is that all four pairs were trying to improve their medal chances by influencing who they would go on to meet during the competition's knockout stages.
But will the loss of these four teams affect who will now take home the medals? BBC Sport profiles the competitors who have found themselves in doubles troubles in London.
China's Wang Xiaoli and Yu Yang
Wang Xiaoli and Yu Yang came into the London Olympics as the golden girls of badminton.
The Chinese pair joined forces two years ago and soon began to dominate the doubles, clocking up an amazing 52-week unbeaten run.
They are ranked number one in the world and are the reigning world championships, having collected gold in the women's doubles at the 2011 championships which were also held in London.
Yu, 26, is also one half of the women's doubles team which won gold on home soil at the 2008 Beijing Olympics.
Wang and Yu's disqualification will be a blow to the Chinese, who are aiming to win Olympic gold in the event for the fifth straight Games.
South Korea's Ha Jung-eun and Kim Min-jung
If the world rankings are a guide to medals then the second South Korean pair of Ha Jung-eun and Kim Min-jung would have left London with bronze.
The world number three pairing were preparing to face their fierce Chinese rivals again in London.
Ha and Kim recently lost to Wang and Yu in the Uber Cup - an international women's team event - in May.
South Korea's Jung Kyung-eun and Kim Ha-na
The South Korean duo are ranked eighth in the world.
Jung Kyung-eun and Kim Ha-na, both 22-years-old, won their first major title at the Indian Open in April.
That success was a solid warm-up for the London Olympics as they beat China's world number two pairing Bao Yixin and Zhong Qianxin in the final.
Indonesia's Greysia Polii and Meiliana Jauhari
Indonesia's Greysia Polii and Meliana Jauhari came to the London Olympics ranked number 12 in the world's women's doubles rankings.
The duo are yet to win a first major title and have been in mixed form in 2012.
At their last tournament leading up to the Games, June's Singapore Open, they reached the semi-finals.
Polii, who was born in the Indonesian capital of Jakarta, has explained the bizarre events in London, saying: "The referee said to us 'you are not playing very seriously' and since he said that we felt intimidated and disturbed."