Natasha Perdue's mixed feelings on emotional Olympic debut
Last updated on .From the section Olympics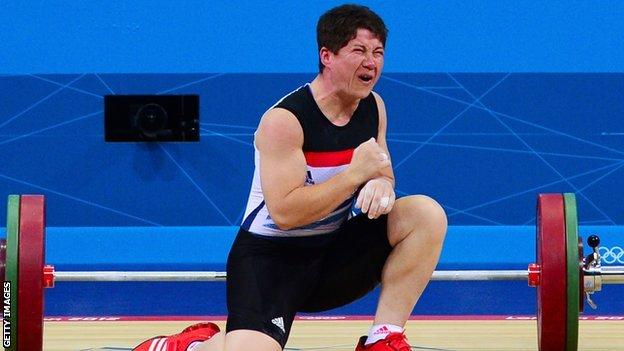 Natasha Perdue reflected on her Olympic debut as a bitter-sweet experience after injury prevented the weighlifter from performing at her best.
The 37-year-old from Swansea suffered a leg spasm on her second lift but battled through to complete the event, finishing 12th overall.
But despite the set-back, Perdue was proud to have delivered a promise to her late father to reach the Olympics.
"I'm sure he's going to be up there smiling to himself," she said.
"That side of my is happy - I've come to an Olympics, I've stood on the platform and that's what I told my dad a few years ago I was going to do."
Perdue's father, Terry, finished 10th at the 1968 and 1972 Olympics, but passed away before seeing his daughter compete as a weightlifter.
The pride and excitment was obvious as she stepped onto the stage for her first lift in the snatch discipline as a huge smile engulfed her face, an instinctive reaction to the huge ovation from the crowd.
"When I first came out I was trying not to smile and stay focused on the job but the crowd lifted and I couldn't hold it in," she said.
But the smile soon changed to a grimace as Perdue's leg gave way after her failed attempt at 92kg.
After securing a successful lift at the same weight, she almost collapsed again as she left the stage and was helped to a neaby seat by Great Britian weighlifting coach Tamas Feher.
Perdue appeared for a third and final attempt at 95kg, still three kilos shy of her personal best, but failed to complete a successful lift as her left shoulder gave way.
A brief interval gave her an opportunity to have treatment on her leg and back, and she managed a successful lift of 113kg despite obvious discomfort.
With a total secure, Perdue decided to pass on her final two attempts and was almost in tears as she looked towards the heavens and acknowledged the huge ovation from the crowd.
"It was a case of just getting one clean and jerk [lift] and shut everything down. Some things can't be foreseen," she said.
"I'm massively disappointed because there are better lifts inside me. I could have really enjoyed this because there's nowhere in the world where I'd get support like this.
"The Great Britain general public are amazing. That's what I'm most upset about that I couldn't go out there longer for more lifts and enjoyed all that support."
Perdue relocated to Leeds to train at the GB high-performance centre, combining her full-time training regime with her day job at the refuse department of Leeds City Council.
She now intends to return home to Swansea, and joked: "Sorry boys but you're not going to see me in a bin lorry no more."