Team GB rower Chris Bartley was buoyed by Olympic dream
Last updated on .From the section Olympics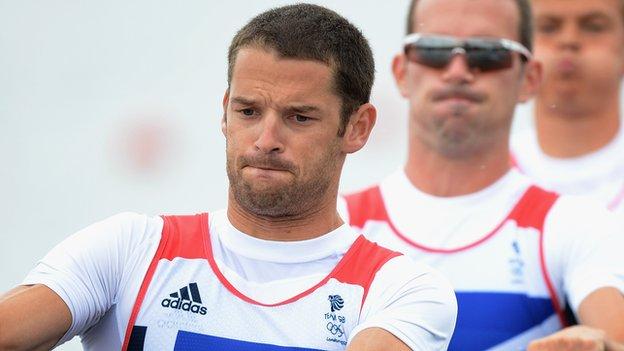 Chris Bartley could only dream of competing for an Olympic rowing medal when he took up the sport as a 14-year-old schoolboy.
But more than a decade on, and the Wrexham-born rower has done just that and scooped silver - the first medal for a Welsh competitor at London 2012.
Bartley and his lightweight coxless four crew of Peter Chambers, Richard Chambers and Rob Williams prepared for London 2012 by finishing on the podium in each of the three World Cup events this season, winning a gold medal in Munich in June.
"If you'd ever asked me at any point during my rowing career, I wouldn't have said I was a candidate to go to the Olympic Games," he said before competition started.
"But I guess I must have done something right over the past four years."
Bartley's rowing career began just over the English border from his home town of Wrexham at King's School in Chester.
Height is an asset for rowers and a 5ft 8in frame meant a lot of hard work was needed to reach the level of an Olympian.
He was crowned world under-23 champion in the lightweight men's pair in 2006 and won a senior bronze medal at the World Championships in the lightweight quadruple scull the following year.
Bartley and his current Olympic crew of Chambers, Chambers and Williams, then won gold at the World Rowing Championships in 2010, before embarking on a memorable season this year.
Bartley's career can already be judged a success but for the 28-year-old Welshman, reaching the Olympics was the pinnacle.
"Obviously [I'm] very proud to be here," Bartley said before Thursday's final.
"And now I've raced I can really call myself an Olympian.
"It's great to be part of that club."