Olympics 100m: Tyson Gay has his heart set on a medal
Last updated on .From the section Olympics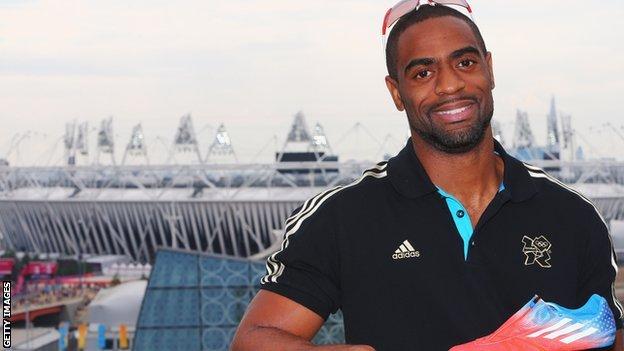 US sprinter Tyson Gay is desperate to win a medal at the London Olympics after failing to make the 100m final at the 2008 Games in Beijing.
The 29-year-old was hit by hamstring problems four years ago but could be the biggest threat to Jamaican pair Usain Bolt and Yohan Blake for gold.
"I really feel the missing piece of my heart is an Olympic medal," he said.
Gay also faces competition from countryman Justin Gatlin, who beat him at the US qualifiers in June.
"For me, this Olympics is really special," Gay, the second fastest man in history, said.
"To come here and compete for a medal really means a lot after I came up short in 2008.
"There is a lot of pressure for me, I am not going to lie. There would still be pressure if I did get a medal in 2008.
"I have a lot of driving force coming into these Games. I am fully focused on leaving with a medal."
Gay has not won a major medal since World Championship silver in 2009 and missed most of last season with a hip injury. But he insists he is confident in his fitness.
"I am not worried about it too much," he said. "I think I will be fit, I just have to execute my first race without using too much energy and then follow up in the next two rounds.
"It's tough, but at this stage it's about coming home with a medal. If they [Gay's rivals] run a time I've never been before, I can only hope my body will enable me to go there as well.
"I know what those guys bring to the table and they know what I bring.
"There are going to be eight finalists who are nine times out of 10 capable of getting a medal. It's going to be tough regardless of who gets the most attention and who doesn't."